I never really liked the Twilight Saga series until I the Volturi stepped in. They are the best part of it, in my opinion. I love Jane and Alec, though Jane is by far the best character I like. I really wish she and Alec had more moments in the movie.
About me... I really like writing novels, tennis, just hanging and going to see kid movies. Yeah, I'm sixteen, but I love Disney, Pixar, those types of movies and I'm not going to say I don't. I don't like horror movies, as they give me nightmares and I don't really like too much romance, but fighting is good. Not too much blood, makes me a little dizzy, but a descent amount is fine. I really like comedy, like Modern Family, I am a Glee fan, but I'm not all crazy about it.
If I think of anything else I want to put up here, I'll do so.
I cannot now live without the Volturi in my life, they are so amazing and so cool! Love Jane and Alec, obviously, but I also love the Volturi and want their crest, would be so amazing!
Love this wiki! Love Jane and Alec Volturi! Their past life is so sad. You have to give them credit for that. I mean, they were neary killed, burned at the stake; anyways, that's my love for Twilight, the main part at least.
I have the VOLTURI NECKLACE! So excited! It's a really cool necklace, it's really awesome!
My favorite pagesEdit
My favorite characters(s)Edit
My least favorite character(s)Edit
My favorite moviesEdit

My favorite quotes, lines from the moviesEdit
New Moon, Alec "Sister, they send you out to get one and you come back with two... and a half. Such a clever girl."
New Moon, Aro "I love a happy ending... they are so rare."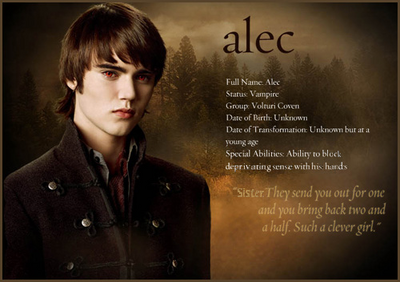 New Moon, Jane "Pain."
New Moon, Jane "This may hurt just a little."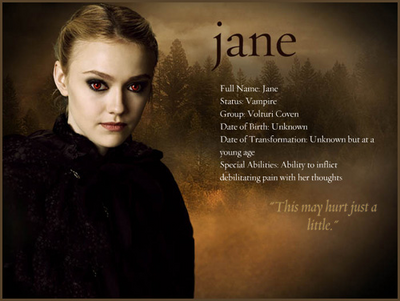 Eclipse, Felix "Others may begin to question the Volturi's affect."
Eclipse, Jane "Aro's decisions are being watched, we must decide."
Eclipse, Alec "Then decide sister, it's time."
Eclipse, Jane "Yes it is. Either we let them do what they were created for, or we end them. Decisions decisions."
Eclipse, Jane "Impressive. I've never seen a coven escape an assault at this magnitude intact."
Eclipse, Jane "The Volturi don't give second chances."
Eclipse, Jane "Take care of that Felix, I want to go home."
My favorite character profilesEdit
Jane
Biographical information
Born

Prior to 800 A.D; England

Changed

Exact date unknown

Age when turned

Around the age of 12 or 13

Created by
Physical description
Species
Gender

Female

Height

4'8"

Hair color

Blond

Eye color
Skin color

Pale

Family information
Family members
Special characteristics
Abilities

Basic vampire abilities

Special abilities
Affiliation
Occupation

Volturi Guard

Loyalty
Alec
Biographical information
Born

Prior to 800 A.D; England

Changed

Exact date unknown

Age when turned

Around the age of 12 or 13

Created by
Physical description
Species
Gender

Male

Height

5'0"

Hair color

Brown

Eye color
Skin color

Pale

Family information
Family members
Special characteristics
Abilities

Basic vampire abilities

Special abilities
Affiliation
Occupation

Volturi Guard

Loyalty