Jasper Hale
Biographical information
Born

1843

Changed

1863 (at the age of 20)

Died

1863 (as a human)

Alias

Jazz

Physical description
Species

Vampire

Gender

Male

Height

6'3"

Hair color

Honey blond

Eye color

Golden

Skin color

Pale

Family information
Family members

Rosalie Hale (wife)
Emmett Cullen (Adoptive Brother)
Alice Cullen (Adoptive Sister)
Carlisle Cullen (Adoptive Father)
Esme Cullen (Adoptive Mother)
Edward Cullen (Adoptive Brother)
Bella Cullen (Adoptive Sister)
Renesmee Cullen (Adoptive Niece)

Special characteristics
Abilities

Basic vampiric powers

Special abilities

Emotional manipulation/Empathy

Seductress.

Affiliation
Occupation

Student

Loyalty

Rosalie Hale
Renesmee Cullen
Olympic Coven
Confederate Army
Maria's Coven
"I didn't have quite the same... upbringing as my adopted siblings here. My beginning was something else entirely."

―Jasper Hale on his past
Jasper Hale, born Jasper Whitlock in 1843, is a vampire who participated in the great vampire wars of the south, but later became a member of the Olympic Coven. He is the husband of Rosalie Hale and the adoptive son of Carlisle and Esme Cullen, as well as the adoptive brother of and Emmett and Alice Cullen, Edward and Bella Cullen, as well as the adoptive uncle of Renesmee Cullen.
After becoming a major in the Confederate Army, Jasper was beset upon by the vampire Maria, who proceeded to turn him. After the transformation, Jasper aided Maria in her creation of a newborn vampire army which successfully conquered the feeding grounds of Texas. However, Jasper became disillusioned with this violent life and eventually became a nomad. Fortunately, he was eventually found Rosalie, the love of his life and with her began a life with the peaceful coven of the Cullen family.
Biography
Edit
Early Life
Edit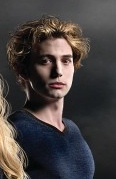 Jasper Hale was a major in the Confederate Army in Texas until he was turned into a vampire one dark night by Maria and two other vampires who were later killed by Jasper and Maria when they became of no use and were planning to defeat them and take over.
Jasper trained and commanded Maria' s New Born Army that participated in the Southern Vampire Wars. After almost a century of fighting and killing, he left Maria's New Born Army and ran with Peter and Charlotte. A few years later he left their company because he was unable to continue feeding on humans due to the reasons of being able to feel the emotions that his prey felt when he fed. Later, he meets Alice in a diner in Philadelphia, and together with the help of Alice's 'sight', they search for Carlisle and his coven.
Jasper uses Rosalie's surname of 'Hale', and poses as her twin due to the similarities in their physical appearance of blonde hair, which they use as their cover story while attending High School with humans. Out of the whole coven, Jasper has the hardest time being around humans, due to his untrained upbringing as a young vampire in an army environment. He was not taught to control or how to regulate his blood lust. Edward Cullen states that all human blood is equally tempting to Jasper, unlike the rest of the family, who can notice the variations in blood scent in different humans. When he became a vampire, he gained the ability to manipulate people's emotions.
Personality and traits
Edit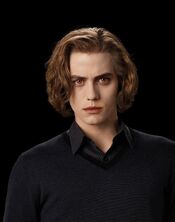 Physical Description
Edit
Jasper is 6'3" and has golden honey blond hair. He is muscular but lean. Like the other Cullens, he has pale, marble-like skin and bruise-like purple shadows under his eyes, which appear gradually as his thirst increases. He has golden eyes, like all animal-feeding ("vegetarian") vampires, which turn darker, eventually becoming black, as he grows thirstier.But sometimes he has red eyes because of his past.He has many crescent-shaped scars on his body, face, neck and jaw from the bites of vampires he fought on Maria's behalf.But they have eventually vanished over the years. The white scars are invisible to humans unless contrasted by a strong light, but when viewed by a vampire they are said to be his most dominant feature, causing defensive reactions in vampires who don't know him. In Breaking Dawn Bella says the scars "screamed dangerous." She also says, "How many vampires had tried to kill Jasper? The same number that had died in the attempt." In the movie Jessica calls him "the one who looks like he's in pain."
Personality
Edit
Jasper could be mistaken for cold because of his highly analytical and military mindset. This is displayed in Midnight Sun as he is the one most resolved in killing Bella Swan in order to protect his family's secrets and is even willing to fight Edward Cullen to get to her (who admits he would fight against Jasper to protect her). However, this is before he met her and he steps down immediately after Alice Cullen asks him not to. In the movie he is described by Jessica as "looking like he is in pain." However, his relationship with Alice displays his warmer side. The fact that he suffered depression after his years in Maria's service suggests a strong sense of conscience and grief over his perceived wrong-doings. When he was human he was described as being extremely charismatic, and therefore very likable. He has also been shown to be a strong and forceful leader through his rapid ascent through the ranks of the Confederate Army. The fact that he is always a soothing presence shows that he wishes others to feel well and at ease, and will do his best to make that occur. Jasper is highly intuitive but also never takes advantage of his miraculous gift, showing that he is not malicious and chooses not to manipulate others. While the Cullens are gone in New Moon, Jasper studies philosophy at Cornell University. When the Cullens and Edward left, Jasper felt saddened when he read the emotions coming off Edward and how lonely and heartbroken he was without Bella. He voted yes for Bella to become a vampire. In the opening chapter of Midnight Sun, Jasper is shown as being deeply ashamed of his urge to drain the life from the humans around him. But he is different from his family; he prefers to eat a lot of bears and deer.[1] He also believed that a newborn vampire's instability is natural and unavoidable, and therefore had lower expectations for himself and his control. However, when Bella demonstrated very high levels of self-control as a newborn, Jasper's ideas were challenged and he was forced to review his theories and raise his self-expectations.
On a softer note, Jasper is unconditionally in love with Alice, and, despite her precognitive abilities, would do anything for her and to protect her. An example of this was when Jasper was trying to be 'everywhere at once' to protect Alice as they had their show down with the newborn vampires in Eclipse. Jasper also shows his love for Alice again in Midnight Sun's (yet to be released) draft, saying that he would not allow Alice to be put to harm, no matter how slight the possibility is.
Powers and Abilities
Edit
Some vampires have extra abilities beyond normal which are an amplification of an ability they had as a human (e.g. an intuitive mind could be able to read minds as a vampire). Because he was charismatic as a human, Jasper can feel and manipulate the emotions of others, though must be careful not to constantly manipulate those around him, so as not to create a false reality of others simply feeling what he wants them to feel. Like all other vampires he also has super strength and speed, granite hard skin, immortality, and a keen sense of smell and hearing. In the Cullen family, Jasper is the best fighter (Edward is Jaspers equal due to his mind-reading ability) and the second strongest (next to Emmett). In Eclipse, during the training Jasper gives the Cullens and Quileutes it is noted that Jasper was unable to beat Edward due to his ability to see what Jasper was about to do. This was shown during their sparring, which only stopped when Carlisle told them to, suggesting that it could have continued perhaps indefinitely. As shown in Breaking Dawn, the Quileute wolf pack fear Jasper above all the other Cullens, and described him as "speed, death and power, all rolled into one."
Relationships
Edit
Jasper is thought, by Bella at least, to be on the fringe of his adoptive family. As Carlisle did not change him he doesn't have the same connection with him as his wife Rosalise and his mother Esme and brother Edward do. He has always thought of himself as the weakest link due to his former background and is comforted by Edward on this fact. He, Emmett and Edward enjoy play wrestling with each other, and hunting together on a regular basis, they would seem to be real brothers. Many people think that Jasper has a bigger connection with Esme than the others because of his past and she feels the need to comfort him for it. Rosalie and Jasper have a very special brother/sister relationship, and love each other very much. Jasper and Carlisle are as before not connected as well as the others in the Cullen family, but Carlisle still feels a fatherly bond toward Jasper. His connection with Rosalie is quite remarkable, proven by the fact that meeting her has completely changed his way of life. His connection to the Cullen family as whole is very firm, but as he is quiet and very reserved, it can be mistaken that the connection is quite dull.
Rosalie Hale
Edit
"I know that I don't deserve you and your love but I love you more than life itself...I do anything for you Rose.
"
―Jasper to Rosalie.
Jasper first met Rosalie Hale after escaping the vampire wars he had been involved in. She was sitting on a stool in a diner in Philadelphia waiting for the very bad storm to past. Jasper, a little taken back by her beauty, apologized sheepishly to her when she teased him about how long by coming to see and talk to her by "bowing his head like a good southern gentleman" and answering, "I'm sorry, ma'am." as Rosalie had said when Jasper was telling his story to their family. Rosalie then, offered him her hand in a silent request to leave the diner and start a new life together. Jasper accepted (as quoted from during his and Rosalie's wedding rehearsal, "For the first time in almost a century...I felt hope"). They fell in love at first sight and eventually Rosalie bought him to the Cullen family. Rosalie helps Jasper regulate his blood lust by calming him down. Since they met he have been a part of the Cullen family ever since.
It is stated throughout in the vapire world that Rosalie and Jasper have a extremely special, extremely private relationship. They were both never complete until they met each other. Their distinctly understanding love is what separates them from the other couples in their family. They are extremely flamboyant about their relationship more than the other couples in their family. The two are extremely committed and extremely protective of each other. They have been married several times often when they move to a new place, since Rosalie enjoys the ceremony and the attention that it brings her. He and Rosalie sometimes live away from the rest of the Cullens as a newlywed couple. It is obvious that Jasper is in love with Rosalie and would do anything for her. He has quite a protective nature toward her, as Carlisle with Esme, Emmett with Alice, Edward with Bella.
Etymology
Edit
Jasper is a variant of its original Persian 'Kaspar. In accordance with Biblical text, Casper ( from the Persian "Gaspar" meaning 'treasurer or treasure bringer ) is the name of one of the"Three Kings"(commonplace referred to as the Magi: Wise Men) who, by ways of divination through astrological mathematics, presented gifts to Christ on the night of his birth. Casper's gift was that of frankincense. The name Gaspar or Caspar, along with the names of the other two legendary magi, appeared for the first time in two medieval Latin texts and dates from the 9th century AD. The spell containing the name of Jaspar is a French/English transcription of the Latin word Caspar. Its Biblical reference led to its adoption as an English name in the 17th Century.
Jasper is also the name of a precious and beautiful gem, which translates to "speckled or spotted stone", derived via Greek iaspis (a feminine noun). On metaphysical standards, it has the ability to foster and nurture and its energy is used for grounding and protection, while Native American traditions use the stone for connecting with the spirit world and for protection during travel, believed to stabalise emotions, and 'ease emotional stresses', which fits in with Jasper's ability to manipulate emotions, in particular to calm and relax.
Rosalie Lillain Hale-Whitlock Cullen
Edit
Rosalie Lillian Hale
Biographical information
Born

1915, Rochester

Changed

1933

Died

1933 (as human)

Alias
Physical description
Species
Gender

Female

Height

5'9"

Hair color

Blond

Eye color

Golden

Skin color

Pale

Family information
Family members
Special characteristics
Abilities

Basic vampiric abilities; Beauty

Affiliation
Occupation

Student

Loyalty
"Admiration was like air to me, Bella. I was silly and shallow, but I was content."

―Rosalie to Bella Swan
Rosalie Lillian Hale is a vampire and a member of the Olympic Coven. She is the wife of Emmett Cullen and the adoptive daughter of Carlisle and Esme Cullen, as well as the adoptive sister of Jasper Hale (in Forks, she and Jasper pretend to be twins) and Alice and Edward Cullen, as well as the adoptive sister-in-law to Bella Cullen and adoptive aunt of Renesmee Cullen.
In 1933, Rosalie was transformed into a vampire by Carlisle Cullen after being beaten to the brink of death by a group of men including Royce King, her fiance. Two years later, Rosalie rescued a young man named Emmett from being mauled by a bear, and after his transformation into a vampire, the two fell very deeply in love. Along with Emmett, Rosalie was an integral member of the Cullen family and fought eagerly against those who threatened them.
Biography
Edit
Rosalie Lillian Hale was born in Rochester, New York in 1915; she had two younger brothers, a housewife for a mother, and her father worked at a bank. Rosalie's father's job helped keep the family wealthy during the Great Depression. She was born beautiful and constantly praised, making her vain and self-centered. However, unlike her parents, who always wanted more out of life despite their already elevated status, Rosalie was just happy in the knowledge that she was Rosalie Hale, and that she was beautiful.
One day, Rosalie's mother had her dress up to deliver her father's forgotten lunch to his job, in the hopes that the son of the bank's owner would take more interest in Rosalie. It worked. Royce King the Second sent roses to Rosalie and, after making a comment that her eyes were like violets, Rosalie began receiving them, too. Their relationship was solely based on physical attraction, as Royce was often too busy at the bank. They became engaged and shortly before the wedding, Rosalie visited her good friend Vera, who Rosalie envied for her baby boy. At one point, when Vera's husband kissed Vera, Rosalie finally noticed the lack of love in her relationship with Royce that was so obvious in Vera's. While walking home, shaken by her thoughts about her loveless relationship, Rosalie stumbled across her drunk fiancé and his equally-drunk pals; Royce bragged about his fiancée's beauty which eventually led to Rosalie being gang raped and beaten and left in the street to die.
Rosalie was found by Carlisle Cullen, the scent of blood having attracted Carlisle to the dying Rosalie. He carried her to a room where he made the eighteen year old a vampire, worsening the pain she was already in. She awoke to voices of the Cullens arguing about Carlisle saving Rosalie just because they stumbled across her when she was dying. Edward was not happy with the idea that Carlisle had changed her in the hopes that she could be his vampire mate. Rosalie was furious at Edward's rejection even despite her own lack of feelings for him as well. Her vanity still needed feeding and she was surprised and hurt that Edward didn't seem attracted to her. Upon seeing her reflection, Rosalie's unhappy mood improved with her now improved vampiric beauty. Rosalie soon avenged her death by killing all who were with Royce that night. Having saved Royce for last, Rosalie donned a bridal gown and found her fiancé locked in a windowless room with a thick, vault-like door guarded by two men. Killing the guards, Rosalie entered the room where she tortured Royce to death. Though she killed these seven men, she was very careful to not spill even the smallest drop of their blood, knowing that she wouldn't be able to resist. After her transformation, Rosalie became a permanent member of the Cullen family. She didn't like Edward at first because he insulted her the first time she heard him speak, and he wasn't obsessed with her because she was so beautiful, like all the other men she had known. Carlisle had intended for Edward and Rosalie to be like he and Esme were, but Edward only loved Rosalie as a sister.
Two years after her transformation, in 1935, Rosalie stumbled across a young man named Emmett McCarty being mauled by a bear outside of Gatlinburg, Tennesee. Emmett's features reminded her of Vera's young son Henry, and as such, Rosalie chose to rescue the dying man. Rosalie resisted the urge to drink Emmett's blood and carried him over one hundred miles to Carlisle, who turned him into a vampire. Rosalie and Emmett were rarely separated after this; the two having found in the other their true soul mate. The pair would marry often and sometimes lived separate to the rest of their adopted family as a newlywed couple.
By the 1950's the Cullen family welcomed two new additions to their family, Alice and Jasper. Due to their similar features, Rosalie and Jasper would often play the part of biological siblings who had been adopted by Carlisle and Esme Cullen. During the long decades of her life, Rosalie developed a passion for collecting cars akin to her adopted brother Edward Cullen, and is a brilliant mechanic.
Personality and traits
Edit
Rosalie is described as being the most beautiful person in the world, as she is astoundingly gorgeous, even for a vampire. Rosalie is tall and statuesque, with an elegant figure similar to a model's. She has blonde, wavy hair that goes down to the middle of her back and golden/black eyes like the rest of the Cullens. As with other vampires, she has solid, marble white skin and purple bruise-like shadows under her eyes. In her human life, Rosalie was described as a woman with beauty, elegance, class, and money. Her eyes were described as being like violets when she was a human.
As for personality, Rosalie is described as being narcissistic, but extremely loyal to friends and family. Rosalie treasures humanity and often wishes she was still human, she is described as being willing to trade anything and everything she has for another chance at being human. Always wanting children of her own, Rosalie supports Bella's decision to keep her daughter, Renesmee, and Rosalie's former resentment towards Bella turns into a special friendship and bond.
Abilities
Edit
Rosalie, human and vampire, is known as being the "most beautiful person in the world". She has normal vampire skills like speed, super strength, granite hard skin and immortality.
Relationships
Edit

"With the dark curls...the dimples that showed even while he was grimacing in pain...the strange innocence that seemed so out of place on a grown man's face...he reminded me of Vera's little Henry."

―Rosalie Hale on Emmett
Emmett Cullen is Rosalie's husband and true lover. She preferred to stay with Emmett from the day Carlisle changed him. Rosalie saved him from a near-death bear mauling and carried him 100 miles to her home, despite the extreme effort this costs her, for Carlisle to change him, because she didn't think she could do it herself. In Eclipse, Rosalie tells Bella that she saved Emmett because he reminded her of her friend Vera's son, Henry, because of his dark curly hair and dimpled cheeks and "the strange innocence that looked so out of place on a grown man's face". Although Rosalie loves Emmett more than anybody in the world, she still is upset that she cannot concieve children. She and Emmett are passionately in love and are often said to be kissing when they have to leave each other, even if only for a short amount of time. They have been married several times, since Rosalie enjoys the ceremony and the attention that it brings her. She and Emmett sometimes live away from the rest of the Cullens as a newlywed couple.

Jasper Hale is Rosalie's adoptive brother. Jasper and Rosalie have a very special sister/brother relationship, and love each other very much. The two are extremely protective of each other and would do anything for each other as well as to take up for one another. Due to their similar features, Rosalie and Jasper pretend to be biological siblings who have been adopted by Carlisle and Esme Cullen while attending high school in Forks.

Carlisle Cullen is Rosalie's adoptive father. He turned her into a vampire in order to save her from fatal injuries inflicted by her drunken fiancé and his friends, who left her in the street to die. Rosalie resents the fact that she is a vampire, as she treasures humanity and often wishes she was still human. She was initially resentful of Carlisle for what he had done to her, but later on she came to love and respect him, especially after he changed her husband, Emmett.
Esme Cullen is Rosalie's adoptive mother. The exact details of Rosalie's relationship with her adoptive mother Esme are very unknown, but it is known that they love each other passionately and very protective of each other.
Alice Cullen is Rosalie's adoptive sister. She loves fashion like her sister. They both are very close like real sisters and have a very strong bond. The two like to go shopping together often and also like to play Barbie Doll on Bella Swan.
"I don't want Edward that way, Bella. I never did ― I love him as a brother, but he's irritated me from the first moment I heard him speak."

―Rosalie on her brother
Edward Cullen is Rosalie's adoptive brother. When Carlisle changed Rosalie into a vampire, part of the reason was he was hoping she would become a romantic companion for Edward. But Edward and Rosalie's relationship never advanced beyond that of loyal siblings. Although she was never attracted to Edward, Rosalie was actually offended by the fact that Edward never had any romantic attraction to her because she was used to being the center of attention. She eventually came to believe that Edward couldn't be attracted to anyone if he wasn't attracted to her. This changed when Edward fell in love with Bella Swan, and was part of the reason Rosalie was originally so jealous of Bella.

Bella Swan is Rosalie's adoptive sister-in-law. Rosalie loves her family, but, as shown in Twilight, she doesn't like Bella because she is afraid she will expose their secret, and feels that Bella is throwing her life away by wanting to become a vampire and not having kids which is all she wants. At the end of New Moon, she speaks directly to Bella for the first time, and apologizes to her. She comes to care for Bella after it is revealed that Bella is pregnant. Rosalie is the one Bella turned to when she found out that Edward wanted to kill the baby, and Rosalie stayed by her side through the duration of her pregnancy. She is known with Jacob Black to be very extremely overprotective of the child.
Rosalie Hale had a largely antagonistic relationship with Jacob Black. After Bella became pregnant with Renesmee Cullen, Jacob resents Rosalie's attempts to help Bella protect the unborn child; even should it be at the cost of Bella's life. Jacob proceeded to berate Rosalie with dumb blond jokes, though she countered with dog puns. Indeed, she even created a dog bowl for Jacob to eat out of, and scratched 'Fido' on the side. Jacob nicknamed her "Psycho" and "Blondie". She is also called "Sleepless Beauty."
Though they continued to antagonize each other the pair found common ground after the birth of Renesmee as they were both obsessively protective of the child.
"I saved Royce for last. I hoped that he would hear of his friends' deaths and understand, know what was coming for him. I hoped the fear would make the end worse for him. I think it worked."

―Rosalie on killing Royce King
When she was still human, Rosalie's mother schemed for her to be married to Royce King, who was extremely rich. Her plans succeeded, and Rosalie got engaged to him. One night, she went to visit her best friend, Vera, who was married to a carpenter. They had an adorable little boy named Henry, with dark curly hair and dimples. When she saw the love Vera shared with her husband, Rosalie became a bit envious and began to wonder about the lack of love between her and Royce, but she quickly brushed away those thoughts. On her way home she ran into Royce and a few of his friends, all of them drunk. Royce boasted of her beauty, and in his drunken eagerness to show her to his friends, he ended up gang raping and beating her. Rosalie was about to die, when Carlisle Cullen found her and transformed her into a vampire to save her life. When she woke up, Rosalie found and murdered all of Royce's friends who had raped her. When they were dead she stole a wedding dress to be theatrical, then found Royce and slowly tortured him to death.
See also
Edit
Cite error: <ref> tags exist, but no <references/> tag was found