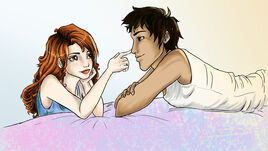 Well I'm a Twilight fan, (
Duh)
in case you didn't get that from my being on here.
I happen to support the paring of Jacob and Renesmee. Because no it isn't pedo. If that thought ever crossed his mind Edward would have killed him. That just goes to show how ignorant people can be just to justify their paring whether it be Blackwater icky poo poo, or Bella/Jacob that bond was because of his future bond with Nessie. Example: Leah/Sam/Emily.
I think imprinting is cute and sweet. So many people believe that there's one person out there for them, and with imprinting there is. The Soulmate idea is just so sweet. The fact that, that one person will always be there for you, caring for you. It sounds like a great deal to me... But whatever people will think what they want.
Just remember, Jake and Nessie are cannon just like Edward and Bella.