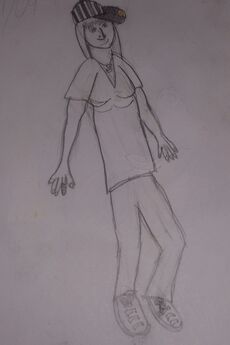 G'day, my name is Ha-Za! But you can call me Haz. I'm a sixteen-year-old semi-vegitarian, (the food sense), Twilight-mad girl. No, I am not a obseessed groupie, even though I do think Jasper is super cute :3 I am a more serious fan, with drawing fan art and writing fanfiction.

<3 Ha-Za 03:56, March 22, 2010 (UTC)
You can find my dA accout HERE. I'm usually on so feel on there so feel free to drop by and say hello!
I also have a FF.net account LINK. I am a devoted fanfiction writer and my current project is the sequel to my first fic, Shayla's Twilight. Shayla's Twilight is based around my OC Shayla who was turned by Carlisle around 1971. She is the youngest of the family and must battle her thirst as she and her family work to porotect Bella. As you can guess from the title, it's at the same time as Twilight. You can read the fic HERE. The sequel Shayla's New Moon, which is at the same time as New Moon, is HERE and has just been started.
I also have a blog where I post updates and extras about my fic LINK.
The drawing just oppisate here is my OC Shayla Cullen and the bio below the drawing is for her as well. Don't mess with her!
Shayla Kara Cullen
Biographical information
Born

1955

Changed

1971

Created by

Carlisle Cullen

Alias

Shay by Alice, Edward, Bella and Emmett Cullen, Kate and Tanya Denali, and Jasper and Rosalie Hale.

Shay-Shay by the above people.

Physical description
Species

Vampire

Gender

Female

Height

5'9"

Hair color

Dark brown

Eye color

Golden (black when thirsty)

Skin color

Pale

Family information
Family members

Family members

• Jasper Hale (Adoptive brother)

• Emmett Cullen (Adoptive Brother)

• Rosalie Hale (Adoptive Sister)

• Carlisle Cullen (Adoptive Father)

• Esme Cullen (Adoptive Mother)

• Bella Swan (Adoptive Sister-In-Law)

• Edward Cullen (Adoptive Brother)

• Alice Cullen (Adoptive Sister)

Special characteristics
Abilities

Basic vampire abilities

Special abilities

Animal-like senses and instincts, increased athletic abilities and some shape-shifter abilities.

Affiliation
Occupation

Student/ band memeber

Loyalty

Olympic Coven/ Australian coven
My favorite pagesEdit
Pages I have madeEdit