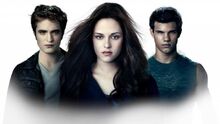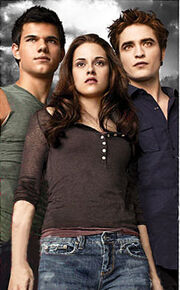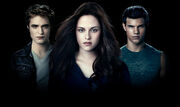 I am a Twilighter. My favourite character is Bella beause I can so relate to her.
I have read all four books, Bree Tanner and seen all five movies, (I do wish that Midnight Sun would be published. It is very annoying that someone thought it would be a very good idea to leak the book before it was even finished. Thanks a lot for that!).
I have all the books (film covers so I don't confused with my sister's ones, she has the original black covers, I really don't like the new white covers), The Short Second Life of Bree Tanner, the Official Illustrated Guide, both the Twilight Graphic Novels, all the Movie Companions (I think it's really annoying that they didn't do one for Breaking Dawn Part 2), The Complete Film Archive, all the books on CD and all the movies on DVD.
I love Kristen Stewart, Robert Pattinson and Taylor Lautner's performaces as Bella, Edward and Jacob but I love Kristen Stewart's performace more. My favourite actor is (of course) Kristen Stewart. I have quite a lot of her movies on DVD.
EdwardJacobBella (talk) 12:56, May 17, 2014 (UTC)
My favorite pages
Edit