Ella Cullen
Biographical information
Born

February 22

Age when turned

15

Physical description
Species

Vampire

Gender

Female

Height

6'9

Hair color

Brunette

Eye color
Skin color

pale

Family members

Alice Cullen
Jasper Hale
Edward Cullen
Renesmee Cullen
Rosalie Hale
Emmett Cullen
Esme Cullen
Carlisle Cullen
"..., » Smile on your face even though your heart is frowning."

―{{{2}}}
Ƹ̵̡Ӝ̵̨̄Ʒ Welcome! Ƹ̵̡Ӝ̵̨̄Ʒ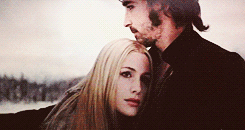 Stephenie Meyer
Edit
"When you can live forever, so there is something worth dying for?" She is simply gorgeous and a great writer.I think its her books were interesting. Her writing style and Not to mention she managed to put the feelings into it like it was real.
Biography Stephenie Meyer ( born December 24, 1973) is an American young adult author and producer, best known for her vampire romance series Twilight.The Twilight novels have gained worldwide recognition and sold over 100 million copies, with translations into 37 different languages. Meyer was the bestselling author of 2008 and 2009 in America, having sold over 29 million books in 2008,and 26.5 million books in 2009. Twilight was the best-selling book of 2008 in US bookstores. Stephenie Meyer was born in Hartford. She attended Chaparral High School in Scottsdale, Arizona, where her former English teacher remembered her as "bright but not overly so." She attended Brigham Young University in Provo, Utah where she received a B.A. in English in 1997. The Twilight Saga Meyer wrote the draft of what became Chapter 13 of the book.In a matter of three months she had transformed her dream into a complete novel,though she claims that she never intended to publish Twilight and was writing for her own enjoyment. Her sister's response to the book was enthusiastic and she persuaded Meyer to send the manuscript to literary agencies. Following the success of Twilight (2005), Meyer expanded the story into a series with three more books: New Moon (2006), Eclipse (2007), and Breaking Dawn (2008). In its first week after publication, New Moon reached #5 on the New York Times Best Seller List for Children's Chapter Books, and in its second week rose to the #1 position, where it remained for the next 11 weeks. In total, it spent over 50 weeks on the list.After the release of Eclipse, the first three "Twilight" books spent a combined 143 weeks on the New York Times Best Seller list. The fourth installment of the Twilight series, Breaking Dawn, was released with an initial print run of 3.7 million copies.Over 1.3 million copies were sold on the first day.The novel won Meyer her first British Book Award, despite competition with J. K. Rowling's The Tales of Beedle the Bard.The series has sold over 100 million copies worldwide in 37 languages.In 2008, the four books of the series claimed the top four spots on USA Today's year-end bestseller list, making Meyer the first author to ever achieve this feat, as well as being the bestselling author of the year.The Twilight novels held the top four spots on USA Today's year-end list again in 2009. In August 2009, USA Today revealed that Meyer broke J.K. Rowling's record on their bestseller list; the four Twilight books had spent 52 straight weeks in the top 10. The books have spent more than 143 weeks on the New York Times Best Seller List. Upon the completion of the fourth entry in the series, Meyer indicated that Breaking Dawn would be the final novel to be told from Bella Swan's perspective.Midnight Sun was to be a companion novel to the series. It would be a retelling of the events of the novel Twilight, but from the perspective of Edward Cullen. Meyer had hoped to have Midnight Sun published some time shortly after the release of Breaking Dawn, but after an online leak of a rough draft of its first 12 chapters, Meyer chose to delay the project indefinitely.Meyer has decided to pursue non-Twilight related books as a result of the leak. She made the rough chapters of Midnight Sun available on her website.
My favorite pages
Edit
---
</imagemap></center>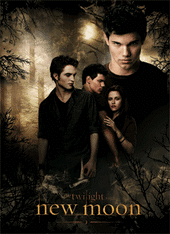 | | |
| --- | --- |
| | This user is on Team Everyone. |
| | |
| --- | --- |
| | This user is on Team Renesmee. |
| | |
| --- | --- |
| | This user is on Team Wolf Pack. |
| | |
| --- | --- |
| | This user is on Team Jacob. |
| | |
| --- | --- |
| | This user is on Team Carlisle. |
| | |
| --- | --- |
| | This user is on Team Esme. |
| | |
| --- | --- |
| | This user is on Team Edward. |
| | |
| --- | --- |
| | This user is on Team Bella. |
| | |
| --- | --- |
| | This user is on Team Alice. |
| | |
| --- | --- |
| | This user is on Team Jasper. |
| | |
| --- | --- |
| | This user is on Team Emmett. |
| | |
| --- | --- |
| | This user is on Team Carmen. |
| | |
| --- | --- |
| | This user is on Team Tanya. |
Carlisle Cullen and Esme Cullen
Edit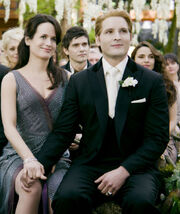 I'm a big fan of Edward and Bella, but I prefer to Carlisle and Esme Cullen.They are the only pair that gives me a great feeling, a relationship I have never experienced in any film or series.Of their relationship to me is something really wonderful, loving, and they are ideal parent figures towards the other members of the coven.Carlisle and Esme first met when she was 16 and he treated her when she had broken her leg whilst falling out of a tree.Proven as well is how much he truly loves her and was willing to change her into a vampire because he didn't want her to die or suffer any longer. To his surprise, Esme accepted her transformation very easily. They fell in love and married "quickly and easily". Her ability to love others with passion helped her to devote herself to her husband's lifestyle.Edward says in Midnight Sun: "More than eighty years had passed since Carlisle had found Esme, and yet he still looked at her with those incredulous eyes of first love. It would always be that way for them."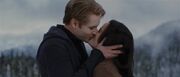 Piper Halliwell and Leo Wyatt
Edit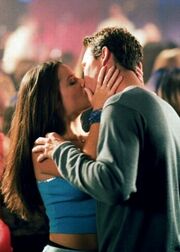 The relationship between Piper Halliwell and Leo Wyatt is the longest running and something really amazing, and arguably the favorite among fans where I belong too.Leo was first introduced as the handyman, and soon became a major love interest for Piper.That's relationship has spanned the whole series, and been the source and extreme happiness and extreme heartbreak for both of them, even when they are separated, but still found time to each other.Though they have endured endless struggles, they are destined to be together always.
Niklaus Mikaelson and Caroline Forbes
Edit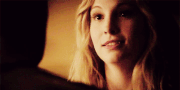 When Klaus visited Caroline's bedroom, he showed a soft, empathetic side to his usually hostile and aggressive character; something that is rarely seen. Klaus discovers that it is actually her birthday, and Caroline assumes he's just going to leave her to die, but Klaus, showing genuine compassion states that he wouldn't do that, especially considering the fact that it is her birthday.Klaus later develops an unrequited romantic interest in Caroline, and invites her to his family's ball. At the ball, they dance and talk together and she soon discovers a soft side to Klaus. When she returns home that night, she finds a hand-drawn picture of her and a horse, from Klaus. As the series progresses, Klaus falls for her even more because she's too smart to be seduced by him, she's beautiful, strong, and full of light. If one thing is for certain about the two of them, it's that there is definitely something there. Whether it's just flirtatious chemistry or something more but they definitely have a spark. Klaus wants to show her the world and believes that one day she'll let him
---
MY ROLE MODELS
Edit
---