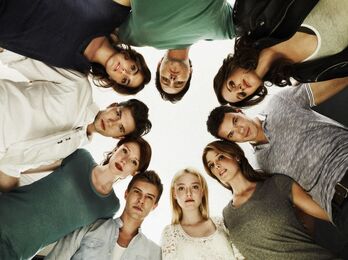 I'm Catherine, and I've been a fan of Twilight since early 2009, when I watched some of the first movie at my friends house. I hadn't seen the movie before, but when I did watch it, I rather enjoyed it. Not long after that, I read the first Twilight book, and I've been a fan ever since (more some times than others).
| | |
| --- | --- |
| | This user is on Team Jacob. |
| | |
| --- | --- |
| | This user is on Team Rosalie. |
| | |
| --- | --- |
| | This user is on Team Bella. |
| | |
| --- | --- |
| | This user is on Team Alice. |
| | |
| --- | --- |
| | This user is on Team Emmett. |
| | |
| --- | --- |
| | This user is on Team Seth. |
| | |
| --- | --- |
| | This user is on Team Switzerland. |
Favourite Characters
Edit
Favourite Books and Films (In Order)
Edit
Twilight
Eclipse
Breaking Dawn
New Moon
Eclipse
Twilight
New Moon

I LOVE music. Here are alist of my favourite bands (in order)
Paramore!
All Time Low
Hey Monday
Evanescence
Flyleaf
Disturbed
We Are In The Crowd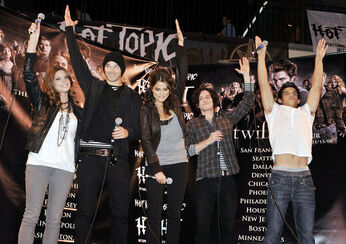 I totally love Paramore though. They're my most favourite band ever. It's thanks to them that I've got into the rock/alternative rock/metal genre of music. Those are my favourite music genres now.
I know, I'm doing a lot of favourite lists. Sorry...
Twilight Book and Movie Reviews
Edit
These reviews are yet to be finished, but I thought I'd make a start.
Twilight (Book)
Edit
I'd say that
Twilight
is my favourite book in the saga. I actually started reading it at a friends house. She was doing something and I saw the book on her shelf, picked it up and read the preface. I was already hooked. Anyway, she lent me the book. I was half way through it when my birthday came around and I asked for all four books as a present. Anyway, I liked watching t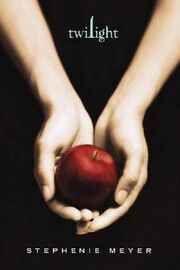 he characters develop, I loved the first book of
Bella
's story. The beginning of the relationship between
Bella and Edward
was awesome. I liked the meadow part. I thought that the story was rather well told and I actually really liked it. As I've said, it's my favourite book of the
saga
.