Twilight
is a series of
vampire
novels by
Stephenie Meyer
. It follows the life of
Bella Swan
, a teenager who moves to
Forks, Washington
, and finds her life radically changed when she falls in love with a vampire named
Edward Cullen
.
This community was created by the fans, for the fans, and is dedicated to housing a useful and informative database for all subject matter related to the
Twilight Saga
. Our goal is to collaborate with other fans in order to build a reliable, accurate resource with as much detailed information about the novels, films, characters, and story elements as possible. All are welcome to
join in
and contribute here, so long as edits are constructive, discussions are positive, and both are relevant to the Twilight Saga.
For more information about how you can get started here, please check the "
Helping Out
" section below. Thanks for stopping by!
Welcome
Hi my name is Jessy, my user name is Big Brother 99, you can say hi to me on my user page, thanks guys! Plus if you want to be happy with me, you can just smile at me and I will automatically like you and befriend you. Twilight is such an good franchise, Stephenie Meyer did a great job on the franchise, thanks for making it happen.
Gallery
Character
Template:Vamp Character Info Box 2 Over one thousand years ago, Jessica was turned into a Vampire by some unknown vampire like Carlisle who adopted Jessica and she married Edward after He watched Bella die while she was staying with the Volturi for seven months as a form of punishment for what she had done the seven month period was some form to take Bella over to their side, but it didn't work as she has her mental shield that she had when she was a vampire.
Story
When she was born, she was born to a poor family that had little money, all that she could afford was to buy staple things like oats, bread and eggs. That is all she could afford to give to her family. She was born into a family that couldn't help themselves as they had very little.
She was walking home one night and she was bitten by the unknown vampire who might of been the one who created Carlisle bit her arm and then she was writhing in pain for three days in a sewer that wasn't that far from to where her family had lived. She then woke up a vampire and slaughtered her family as they were food and she was a newborn vampire at the time and could help her thirst.
When she got stronger and the Volturi had noticed her, she was asked but she declined the offer saying it would be "wasteful and distasteful" for her join. So she when later moved on and lived her life.
Physical
She is pretty.
Relationships
Tally stall (Adoptive Daughter)
Tobias Eaton (Adoptive Son)
Renesmee Cullen (Step Daughter)
Peter Masskika (Adoptive Son)
Carlisle Cullen
Esme Cullen
Bella Cullen
Jasper Hale
Alice Cullen
Rosalie Hale
Emmett Cullen
Quotes
"There is little to be done here but to whimper and cower as she lends herself ashtray"
Trivia
Notes
References
See Also
Books
Wants
More stuff
Pictures
Books more
Polls
Notes

Carlisle's Diary ~ Halloween . November 9, 2013 at 4:26pm
Source: http://www.bellasdiary.com/2013/10/30/carlisles-diary-halloween/
Dear Diary:

So very glad that love triangle ended amicably. Now our family concentrates on a bit of a happier times; it's Halloween! We all have our costumes ready to go. All of the photos of absolutely everything are below. So as you know Halloween is a special time in our family because it not only makes for a fun day and night dressed up and looking strange, but it's also Rogue's birthday. Alice really wanted to plan and have a party but Rogue wanted things her way. So with Alice's help, she turned her and Alexander's home into a haunted house/haunted Halloween gathering. On top of that, there was a Halloween party at the hospital so we decided to split the evening half and half. First go to the party at the hospital, then skip out early and celebrate Rogue's birthday at her place. Most of our costumes were based on fairy tales. The only ones that were not were Rogue and Alexander's (not surprisingly), Kim and Michelle, and Edward and Bella. John and Maria weren't in town but sent their well wishes from Europe. Neither were fond of Halloween so they took their leave beforehand. I will tell you what our costumes are before Alice kills me. Esme and I are going as Aladdin and Jasmin. Yes, I wear a turban and my wife is showing her belly. Bet you didn't think she would ever go that risqué but after her soul searching journey she decided to have some fun. Alice and Jasper were dressed like Snow White and the Prince while Emmett and Rose were Tarzan and Jane. His physique helped fill out that costume nicely. The only thing he grumbled against was the wig, but Tarzan has long hair and Emmett….well…..doesn't; so really a no brainer there. Next were Edward and Bella who went as Mr. Rochester and Jane Eyre. They really went all out to find the right period pieces. Nessie and Jacob were Belle and the Beast from Beauty and the Beast; fits perfectly, considering he's a wolf. Corin and Seth were Arial and Prince Eric (The Little Mermaid), Leah and Keith went as Pocahontas and John Smith because Leah really wanted to showcase her Native American heritage. Finally that left Kim and Michelle who dressed up as pirates, Amy and Peter who went as Cinderella and her prince, and last but not least Rogue and Alexander who went as Trinity and Neo from the Matrix. No way in hell was Rogue getting dressed up as some fairy tale especially on her birthday. It just wasn't her; she wasn't anyone's pretty pretty princess. I think she actually hates the color pink.
But I digress. As you know also, Halloween is the day Carrie is to be executed and that execution was carried out without incident. But I will talk about that toward the end. Ironically, Rogue was forbidden to be there by none other than her friend and former FBI partner Scott Kramer. He told her that she wasn't allowed into the building. He did that because he didn't want her to spend her birthday watching Carrie's execution. He said he'll take care of it and since her execution was to be carried out in the early evening anyways, he had plenty of time to be there. To make things more interesting, he actually dressed up as the grim reaper so the last thing Carrie would see as the needle was plunged into her arm was that. If that isn't metaphorically perfect, I don't know what is.
Moving onto more pleasant things, our family got dressed up and came downstairs for the drive to the hospital. We were all going in cars so we would be more human-like as opposed to phasing, flying, or running and then wearing our costumes and possibly losing pieces of them somewhere along the way. The hospital party was set for 6pm. Everyone was coming with their families. For once, all of the people I worked with directly weren't working on shift so could enjoy the party completely. That meant that Betsy and her husband Bob, Charlotte, Ben plus baby Hope, and Bill Connolly with his wife Theresa would all be there.
Once we were all ready, we got into 5 cars and rode to the hospital. Everyone was laughing at themselves and at each other. We were also curious what my colleagues looked like. Once we arrived at the hospital, we parked and got out. We hadn't seen the Watchers' costumes up until that point as we went from our respective houses and were pleasantly surprised how different and yet still cohesive we all looked. We walked into the hospital through one of the side doors and followed the signs to the main pavilion where the party was held.
Considering this was hospital the decorations were impressive. It looked like an abandoned insane asylum with cobwebs and spiders, bugs and blood everywhere. At first I didn't recognize anyone because as far as costumes go, people had gone all out. There were the usual vampire and werewolf section along with grim reapers, monsters of all kinds and bloody zombie like characters. Then Bill Connolly popped up behind me as usual scaring the living daylights out of me.
"Hey Carlisle! Glad you folks could make it. Pretty cool don't you think?" He said with a laugh. He gestured around the room. He himself and his wife Theresa were dressed like a king and queen from the renaissance era.
"Holy……! Bill can you stop scaring the life out of me?" I said with a small jump. Bill laughed."Well at least if you have a heart attack….you've come to the right place!" He said with a wink as I sighed."Wonderful. Where's Betsy?" I said looking round the room but trying to find my head nurse in that gaggle of costumes was impossible. Just then I saw a very blue person waving at me. It was Betsy. She was laughing as she and her husband Bob walked over."Betsy? Is that you under there?" I asked quizzically."Yep. Bob and I are the Ice King and Queen. What do you think?" She said with a giggle."Wow. Very impressive. But I think you guys stayed at the North Pole for a little too long…..that's very blue. I hope it comes off." I said with a smile as Esme and the others laughed."It better, this thing is very itchy." Bob grumbled trying to scratch his own nose which was covered by a very long pointed nose which was getting in the way."Oh quit grumbling and enjoy!" Betsy scolded her husband while everyone continued to laugh.
At this point as Betsy and I stood talking along with Esme, Bob, Bill, and Theresa, the others drifted away and were mingling amongst the hospital staff and picking at the snacks on the long tables at the far corner of the room. People were taking photos with each other and there had even been a photo booth set up so people could really get cool photos if they wanted to. My family enjoyed that booth very much. They actually at one point tried to fit everyone in at the same time and nearly caused the booth to topple over; as Jacob and Emmett literally rolled out….everyone else was laughing so hard tears were coming out…and someone snorted which caused more laughter. We had taken a family photo before we left outside of our house. We were going to take another one before Rogue's party outside of her house with the Watchers included.
As all of these shenanigans were going on, in walked Charlotte, holding baby Hope and Ben. You could tell who they were because they didn't have any fancy makeup on. Charlotte and Hope were both angels with wings and halos while Ben was Zeus. They walked right over to us and we hugged as Esme and the other women cooed over baby Hope who was quite content in her little outfit. Ben had a little stroller with him that he parked in the corner for when Charlotte wanted a rest or they wanted to dance or eat. They weren't staying long either.
"Howdy Dr. Cullen. Wow you make a great Aladdin! And Esme you look like a great Jasmine!" Charlotte exclaimed."Thanks honey. I knew I wanted to be Jasmine for a while. And sticking the turban on Carlisle was fun too." Esme said with a giggle as Charlotte laughed."Maybe you should wear that turban to the hospital more often, Dr. Cullen." Charlotte said with a wink as I rolled my eyes."Do I look like a snake charmer to you?" I said sarcastically as the women continued to laugh at me. Then Rogue walked by with a wave and a smile, Charlotte looked at her with awe."Wow! Rogue really makes Trinity looks fierce. I loved The Matrix movies. Ben and I have them on a DVD box set at home. And isn't her birthday today too?""Yes it is her birthday today, that's why we aren't staying that late either; we're having a family dinner back at her and Alexander's place, Halloween style." I said with a smile.
I glanced at my watch and it said 7:15pm, it was then that I noticed Rogue looking at her phone and closing her eyes and opening them again. She looked at her phone again and texted something and then took a deep breath. All of her Watchers and the rest of us were focused on her without being obvious about it. She looked at me and nodded. Just then I heard her voice in my head as well as the heads of everyone involved:
"It is over. Carrie was executed at 7:13pm. Scott said all went off without a hitch."
It was over wasn't it? No more Carrie. I knew Charlotte remembered today as well so when Rogue was looking at her phone, Charlotte knew what it meant and looked at Rogue who nodded and smiled at her. Charlotte knew what that meant too and let out a huge breath of air. She then went to the open bar that we had set up and got a glass of wine. We all followed suit without saying a word. Then our family along with Charlotte, Ben and Bill, Betsy and their spouses who were also told the news, just clinked our glasses in a silent toast and prayer. Words were just not needed in this case.
We stayed at the hospital for another 2 hours, dancing and enjoying life. Then after saying goodnight to everyone, we piled back into our respective cars and home we went for part 2 of that nights celebration; Rogue's birthday. When we go to her and Alexander's house, Rose set up the camera and Rogue turned on the fog machine so it looked like we were taking a family picture in front of a house that was located in a swamp. They really know how to decorate these Watchers of ours. Their homes all looked like ancient burial grounds. 3,000+ years will perfect any method of decoration I suppose.
Then we went inside which was super spooky and after all 350 candles were lit in the dining room and living room areas, sat down at the table to have dinner. Everything was catered and had arrived there just as we arrived so all we had to do was serve which we decided would be easier to do in a buffet style way. So near a just pile of bones you had pasta with sauce and mozzarella cheese looking like a bunch of eyeballs, meat that looked like it had maggots coming out of it, salad with "bugs", the cake was red and black with skulls on it. There were even Halloween martinis that Alexander made.
Soon enough, Scott joined us and we had a marvelous time eating, drinking and chatting. When it was time to eat desert, Alexander put 1 candle in it because he said he would burn the whole town down if he put the correct amount of candles in. And that the state of NH didn't even have that many candles available. Everyone laughed. Scott knowing the history of the Watchers' from previous encounters that Rogue told you about a few months back, was brought in on the secret of whom the Cullen clan was. He was a bit surprised by the knowledge of wolves and hybrids but other than that he was surprisingly calm about it. I was very surprised. I expected him to really flip out but he said after being around Rogue or Rose as he called her for so many years, nothing surprised him. I can't say I blame the guy.
So we ate, drank, and were merry as they say. After dinner and desert, we turned on some music and danced. It was all Rogue wanted. She didn't want some over the top birthday party put together by Alice. She was very low key. Besides, when you've been alive for over 3,000 years…..you don't need crazy wild bashes and giant celebrations. Just a quiet nice "glad you're still on this planet" and that's good enough for her. Bella really admired her for that much to Alice's dismay. No matter what, Bella would never become the party animal Alice wanted her to be; and that was just fine with Bella, Leah, and Rogue. They didn't like shopping, clothes, or planning parties and that made them get along very well.
After the party dispersed and it was well after midnight, Scott stuck around to tell Rogue about Carrie's execution. We were all gone by then. Her last meal was pizza. And when she was brought into the execution chamber and strapped to the gurney, she was looking sullen. Then she gasped as the curtain was drawn and she saw Scott in the grim reaper outfit. He said the look on her face gave him an immense amount of pleasure.
Her last words were "this isn't the last you've heard of me."
Rogue frowned at that. Scott wasn't worried, he said that everything went off well and her heart stopped and they pronounced her at 7:13pm. Something though wasn't right. Rogue couldn't put her finger on it but Scott told her that she was just being superstitious. Scott promised that he would be there when they dropped her in the ground too. Rogue thanked Scott for everything. And as he left her house to go home being the last one to leave, Alexander had already finished cleaning up. He looked at her and said:
"It is over……isn't it?"
"I don't know." She said.
Something was off.
~Carlisle Cullen
Breaking Dawn Plot
Edit
To be continued in Breaking Dawn - Part 2...
"Childhood is not from birth to a certain age and at a certain age"
"The child is grown, and puts away childish things."
"Childhood is the kingdom where nobody dies."

―Bella narrating the opening line, by Edna St. Vincent Millay

The movie opens at the Black house, where Jacob Black storms out, phases and runs toward the forest. His father, Billy, tries to stop him to no avail. After Jacob is gone, Billy picks up a note on the ground and realizes it is an invitation to Bella Swan and Edward Cullen's wedding. Charlie Swan, Renée, and Phil Dwyer receive invitations as well.

At the Cullen house, Bella is trying on her bridal shoes at Alice Cullen's insistence while the rest of the Cullens are setting up the scenery. Back at home, Bella packs up all of her stuff and reminisces about Jacob's dreamcatcher, which is still hanging on her bed. Edward appears and tells her about the time when he went off on his own and fed on humans who were almost as monstrous as he thought he was before finally returning to Carlisle and Esme.

Bella talks him out of thinking of himself that way. Just then, Emmett Cullen and Jasper Hale arrive and demand that Edward follow them to his bachelor party. Bella goes to bed and dreams about the Volturi and all of her human friends and family being dead, with Edward and herself stained with blood.

The next day, Alice and Rosalie Hale prepare Bella for the wedding while Renée and Charlie give her an old silver hair clip with sapphires, which had belonged to Bella's grandmother.

Bella grows increasingly nervous as she walks down the aisle, until she sees Edward and all of her worries disappear instantaneously. The wedding is a success and Bella and Edward are married.

During the reception, Bella is greeted by the Denali coven, but Irina becomes upset with the Cullens for inviting one of the wolves, Seth Clearwater, since they killed her lover, Laurent. Jacob arrives and dances with Bella, but he gets angry when Bella tells him that she and Edward plan on making love while she is still human, which he foresees as dangerous. The other wolves arrive to stop him before he can make the situation worse.

Edward takes Bella to Isle Esme, a present to Esme from Carlisle, for their honeymoon. That night, they consummate their marriage. The next morning, Edward is distraught because he has involuntarily hurt Bella, though she disagrees.

They spend the next week exploring the islands and enjoying their honeymoon without making love, but Bella continues to attempt persuading him. One night, she has a dream and wants it to be real so badly that she pleads with Edward and he gives in.

Back in La Push, Jacob is resentful of Edward and expects Bella to be dead by the time they return, and is anticipating the moment when he kills him.

Bella realizes that she is pregnant when she sees her unused tampons and feels something move inside her stomach. Edward takes her back to Forks for Carlisle to remove the baby. Unwilling to give up the baby, she calls Rosalie for help.

Two weeks later, Jacob visits the Cullens and finds Bella pregnant at an unnatural rate. Despite everyone else's warnings, Bella is determined to give birth and Rosalie is on her side. When the pack hear about this, Sam Uley decides to kill Bella to prevent the baby from becoming a threat to the locals.

Jacob, however, disagrees and embraces his rightful power as Alpha to separate himself from the pack. It doesn't take long before Seth and Leah Clearwater join him. Since the Cullens have been warned, Sam decides to surround the area and wait for the opportunity to strike. The Cullens hide in their house for the time being as they starve.

Bella's condition worsens throughout the days as her body rejects any kind of food. Eventually, Jacob makes a comment that inspires Edward to let Bella try drinking human blood to satisfy the baby. She begins to feel better immediately.

When Edward hears the baby's thoughts for the first time and learns that it has goodness and loves her parents, his hatred for the baby disappears immediately. Jacob helps Esme, Carlisle, and Emmett escape to hunt by feigning agreement to distract Embry Call, Paul Lahote, Quil Ateara V, and Jared Cameron. However, they are discovered by the two remaining wolves, Brady Fuller and Collin Littlesea. The two fail to catch the Cullens and alert the others.

Back at the house, Bella tells Jacob the names that she has settled for the baby: "Edward Jacob" — shortened E.J. — if it is a boy, and "Renesmee" — derived from Renée and Esme — if it is a girl. Shortly after telling them the names, the baby's placenta detaches and Bella goes through an incredibly painful labor, with her spine and several bones being broken by the baby's struggle. Rosalie tries to get the baby out, but loses control when she tries to open Bella's womb. Edward proceeds with the surgery and acknowledges that the baby is a girl, calling her "Renesmee". Bella's heart stops beating after the birth, and Edward injects his venom into her system and fights to save her. The venom begins to take effect, but Edward doesn't notice it.

Jacob, broken by loss, cries in the backyard while Paul eavesdrops on them. The pack, feeling driven to the edge by Jacob's betrayal, decides to make their move on the Cullens after being informed of Bella's death and confirming the baby's threat. Meanwhile, Jacob goes back inside to kill the baby, who is now in Rosalie's care; but the moment he looks into her eyes, he imprints on her and all of his previous attachments become severed.

The pack arrives and a fight erupts between the Cullens and the pack. Leah, Seth, Emmett, Esme, and Carlisle arrive just in time to neutralize their approach. When Sam readies to strike again, Jacob leaps in between and tells them that he has imprinted on Renesmee, which has made her untouchable to the other wolves. Because of this, the wolves are forced to make permanent peace with the Cullens.

In the following days, Bella's transformation continues as her body heals itself. The movie ends with everyone standing warily still as Bella opens her eyes, which are now blood-red as a newborn vampire.

In a post-credits scene, the Volturi are informed of Bella and Edward's wedding and Bella's transformation into a vampire. The new secretary, Bianca, is killed by Demetri and Felix for spelling Carlisle's name without an 's'. "First it's the spelling, then the grammar," Aro claims. Marcus states that he, Aro, and Caius have no further business with the Cullens. However, Aro disagrees, saying they still have something he wants.
…Continues from Breaking Dawn - Part 1



"My time as a human was over. But I've never felt more alive."
"I was born to be a vampire."

―Bella

The movie picks up where the previous movie left off, right when Bella Cullen opens her eyes after her transformation into a vampire. She finds her senses heightened by many times, and savors a moment with her husband, Edward Cullen, and her perfected beauty. She requests to meet her daughter, Renesmee Cullen, but Edward tells her she needs to hunt first. During the hunt, she quickly learns to harness her heightened senses and abilities: when the scent of a human hiker crosses her nose, she immediately attempts to hunt the hiker, until Edward tells her not to. She quickly comes to her senses, and runs away, much to Edward's amazement, as a newborn shouldn't be able to. Bella tries to feed on a deer, but a mountain lion attacks first, forcing Bella to settle for feeding on the lion instead.

When they return home, Jacob Black tells Bella that she still looks like herself, though the red eyes are something to get used to. He then uses himself as a test subject to see if she is tame enough to meet her daughter without hurting her. Once she passes the test, she goes on to meet Renesmee, who shows her her first memory of Bella as a human thanks to her gift. Bella then finds out that Jacob has imprinted on Renesmee and angrily confronts him about it. However, everyone is impressed by her restraint, given that a newborn would have typically killed by him now. Her anger escalates to a nearly dangerous level when Jacob calls her daughter "Nessie" - a nickname derived from the Loch Ness Monster - to the point that she tries to attack him. Seth Clearwater interferes and gets thrown into a tree by Bella herself and she apologizes to him right after. Jacob continues to reason with Bella about the situation and finally succeeds.

At nightfall, Bella's sister-in-law, Alice Cullen takes them to the cottage which will be Bella, Edward and Renesmee's home. Bella and Edward spend the night there, with Bella wondering how long they can have sex since they never tire. Edward says Rosalie and Emmett were so bad, it took an entire decade before the rest of the Cullens could stand being within 5 miles of them. Bella says they may be worse, with Edward agreeing. They return to the Cullen house the next morning, where they discuss how Bella will fake her own death to keep her father, Charlie Swan, from finding out about her new situation (her being a new vampire and Renesmee's existence). Jacob, upset by the thought of separation from "Nessie", runs to Charlie to show him his ability to transform into a wolf, then explains that Bella had to change in order to get better from her "illness".

Despite the resulting anger from Edward and Bella, Jacob partly calms them by explaining he didn't tell Charlie about vampires. Charlie confronts Bella, demanding answers, but she explains she'll have to leave if he wants the truth. They compromise, with the Cullens staying longer if Charlie agrees to accept the limited information. Then he meets Renesmee, the "adopted daughter" of Bella and Edward, but he figures out the truth when he sees his daughter's brown eyes in the young girl's face. After Charlie leaves, Bella is congratulated for her self-control, but Emmett teases her even though Edward warns him not to anger the strongest vampire in the house. Emmett and Bella have an arm wrestling match, which she wins due to her superior newborn strength. She remarks that though her time as a human was over, being a vampire had made her more alive; that she was born to be one.

Both Sam and Jacob's packs resolve their differences. Renesmee's rapid growth causes worries to the Cullens, who plan to travel to Brazil to learn about the Ticuna legends that may tell them how Renesmee will turn out in the future. At the rate of her development, Renesmee may live a shorter life than a human.

Months later, Irina comes to Forks and misidentifies Renesmee as an "immortal child" (a child who has been turned into a vampire) when she sees her from a distance. Bella tries to catch up to her, but fails. Irina then travels to Italy to inform the Volturi of her incorrect judgement, which triggers Alice's vision of their doom. In the hopes of resolving the matter peacefully, the Cullens set out to find their friends (the Denali, Egyptian, Irish, Amazon, and Romanian covens, as well as some nomads) from all around the world to stand as witnesses for them and prove to the Volturi that Renesmee is not an immortal child. Meanwhile, Bella finds out that she has the power to block psychic powers, and begins practicing how to use it. Also, due to the increasing amount of vampires staying with the Cullens to witness Rensemee's growth, more and more of the Quileutes begin to turn, joining the pack.

Bella finds a clue left by Alice, who has left the family with Jasper, and goes to find J. Jenks, a lawyer who has been forging illegal documents for the Cullens for decades. He gives Bella a set of IDs, passports, and driver's license forged for Renesmee and Jacob. Seeing this, Bella realizes that Renesmee will survive, but also realizes that she and Edward will not be a part of their daughter's life. Bella packs several thousand dollars along with the forged documents into a backpack so Renesmee and Jacob will not have finacial problems for a while; she also includes a letter to her daughter to explain things. Alistair, one of the witnesses, leaves for his own survival.

The Cullens and their allies gather around a bonfire the night before the confrontation and share war-stories. Upon confronting the gathered Cullen witnesses the following morning, the Volturi discover that they have been misinformed. They then immediately execute Irina for her "false accusation" in a ploy to get Kate and Tanya to retaliate in vengeance as a justification to fight; however, Zafrina prevents them from doing so. The Volturi remain undecided on whether Renesmee should be viewed as a threat to vampires' secret existence. Alice and Jasper return in time to present their "proof" that Renesmee poses no danger, but Aro is determined to destroy the Cullens. Carlisle attempts to save Alice, but is immediately destroyed by Aro. The rest of the Cullens, Volturi and their respective allies engage in a huge battle during which Jasper, Seth and Leah Clearwater are killed along with multiple others while Renesmee escapes with Jacob. Aro personally attacks Bella and Edward after most of his coven is destroyed, which results in his own destruction at Bella and Edward's hands.

The scene is then brought back to the moment when Alice "shows" Aro her proof, revealing that the entire battle scene was a vision of his demise if he proceeds with his plan to destroy them. The new witnesses, Huilen and her half-vampire nephew, Nahuel, tell their story, revealing that hybrids are actually much like pure vampires, but with a few human traits. The Volturi then leave in peace with Aro's confirmation that there is no danger in letting the child live. As they leave, Aro glances back at Alice, then Bella, realizing that he has given up much to save himself and his coven from annihilation. The Cullens and their allies take a moment to rejoice in their victory. The Romanians demand to launch an attack, but no one is willing to, prompting their ambition to an end.

As their friends depart, Edward tells Jacob that Renesmee is lucky to have him. He asks if he should start calling Edward "dad" now, but he disagrees immediately. While the four of them (Bella, Edward, Jacob and Renesmee) share a moment together, Alice sees a vision of their future: Renesmee has grown into a fine young woman and is living happily and peacefully with Jacob and their family. Edward, who saw it through her mind, responds with a smile.

Sometime later, back in the meadow, Bella removes her shield to give Edward access to her thoughts for the first time. She tells him that no one has ever loved anyone as much as she loves him, but he disagrees saying there is one exception. He then asks her to remove her shield again, but she tells him they have a lot of time. Edward then adds "forever", and Bella agrees.

The movie concludes with Bella and Edward kissing as the scene turns black and white, and then fades to the final page of the Breaking Dawn novel and fades out on the word "forever".
Transformation
Edit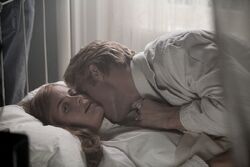 "The warmth inside my heart got more and more real, warmer and warmer. Hotter. The heat was so real it was hard to believe I was imagining it. Hotter. Uncomfortable now. Too hot. Much, much too hot."

―Bella
It is known in Twilight that humans can be changed into vampires from another vampire's venomous bite, and vampire venom is nothing more than a deadly poison to animals. Transformation from human to vampire is described as being:
"the sharpest memory they have of their human life."
Once a human is bitten, the venom from glands inside the vampire's mouth is injected into the bloodstream and will travel throughout the body to change every living cell. Depending upon:
"how much venom is in the bloodstream, and how close the venom enters to the heart"
The transformation could last anywhere from two to five days. During this time, the human will endure indescribable pain. Once the venom is injected, it is described very close to being burned alive.
The venom will then make its way throughout the body. Next through the heart, and it will pump again and again in the heart until it starts meeting itself in the veins. Then it will burn all the veins until the heart stops beating. It moves slower than blood because it is thicker, which makes the transformation long-lasting.
Each beat of the heart can only push it so far. The changing/burning process is slow. The venom has to saturate every cell in the body before the process can be completed.There is no medicine that is strong enough to numb the pain; the best one could do is to immobilize the body.