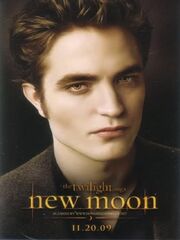 WELCOME TWILIGHT FANS!!!
I CHOSE TO MAKE MY USER NAME "BELLA IS BEAUTIFUL" BECAUSE I LOVE HER CHARACTER! I THINK SHE'S A PERFECT EXAMPLE OF A MODERN HEROIN ARCHETYPE. STEPHENIE MEYER WROTE HER SO WELL!
First, let me introduce myself....I'm really Angelica Dawn, and I have always loved vampire and werewolf lore since I was a kid. This saga has given me a whole new way to experience my favorite anti-heroes with a modern kick. Has anyone else noticed that vampire and werewolf stories abound all around the world in just about every culture? I'm a grown-up (or, at least, I like to think I am after all this time) but there's always been a part of me that has wondered if these myths could have some basis in fact?...................
Who knows? If I were an alternative to homosapiens sapiens (modern humans), and they were my prey, wouldn't I figure out how to lay low? Of course! It sounds kinda silly when I put it down in writing, though! Still, I wouldn't mind being a "veggie vamp" if I had the chance.......... 😏 --Bella is Beautiful (talk) 04:13, July 26, 2012 (UTC)
My favorite pages
Edit
Add links to your favorite pages on the wiki here!
Favorite page #2
Favorite page #3