Well call me Athena or Death... I am a HUGE I MEAN HUGE twilight fan.
my thoughts on the movies..
I was 8 years old when twilight came out my mom and brother had too see the first movie in theather befor I could see it so I had too wait untill it came out on DVD I saw it with my best freind of the time and we both loved it. I loved how the vampires sparkled and the love and how Edward acted towrds Bella but when I was 10 I figured out that edward was basicly a stocker.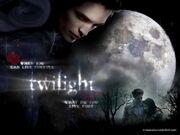 I will do new moon soon
Edit