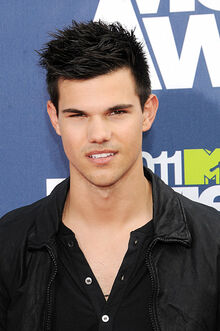 i love twilight i have since 2009 when i saw eclipse!
the real reason was because my best friends told me taylor lautner was going to be in the movie shirtless!
i have been in love with him since his disney hit the adventures of shark boy and lava girl!
i think they could have picked cutier actors and actrresses. nothing agianst kristen stewart and robert pattinson but they could have done better. because robbert compared to taylor is just sad! no offense to the edward fans i love edward (he's hotter in my mind sorry).if you are team jacob you have to see jacob black vs justin bieber baby on youtube!
i love writing i write short stories, poems, litle novels for friends ect.
i love singing too but i mostly get my kick out of reading and shopping.
i haveunmistakeable and outrageous fashion sense (i guess) but my friends all agree iam the most likely to fall in love with a mythical creature!
My favorite pages
Edit
Add links to your favorite pages on the wiki here!
Favorite page #2
Favorite page #3