{{{name}}}
Biographical information
Career
.
|name = Viktor Auren |birthname = Viktor Alexander Kristian Auren |born = June 9, 1993 (1993-06-09) (age 22); in Kokkola, Finland |nationality = Finnish |gender = Male |eyes = Dark brown |hair = *Dark brown
|height = 161cm |family = *Carolina Salmela (husband; 2011-present)
Kristian Auren (son)
John Auren (father)
Christina Frank (mother)
William Auren (brother)
Vilhelm Auren (brother)
Alice McWood (stepmother)
Michael McWood (half-brother)
Robert Auren (grandfather)
Elisabet Auren (grandmother)
|alias = *Viktor
Vikke
Mr. Auren
Viktor Auren
Vik
|Occupation = attorney
when i first watched the movie I loved it it is a very good romance novel of expression and love it is a great movie i Love it and the new breaking dawn is coming out to i am so exited. I think that Breaking dawn is the last movie there doing if i am right then yes it is the last one. There is also new Character's in the movie such as Kate , Tanya , Irina, Renesmee cullen, Athenodora , Garrett and more. The movie is great said the cast it is a great doing they said.
I also love the movie it is so good and i hope everybody like's the movie to as well as me. There is also the volturi they are the royal coven and are the leader's of the vampire world.
So I have been on twitter and my web and it turns out breaking dawn us out november 18 and i got a sneek peek of half of the movie and it is GREAT! so i will be putting a bit of the movie on for you so that's good news. I will also be doing a gallery so I will be putting that up to so it will be most enjoy able as well and i will do a meet up in the, fame center to get more info on that subject so that's great. If you want any questions just post a comment on my, blog or talk page and they will be answer.
I will be putting more info on the new and old cast as well so i hope you injoy that but mainly
about Bella Swan and other main Characters . I have also been working on a video as promiced it is a trailer that i had made so hope you injoy that guys. Don't forget to comment on my talk page guys.
Fashion PoliceEdit
Hey guys so you should keep up with the fashion and kristen has totaly got it going on cheek out the jet black dress it is HOT. But she's not the only one showing her inner fashion cheek out Taylor's look he is on fire and the smart Volturi look is so halloween cheek it out. Loving the lipy Kristen including the hair she has totaly got it going on, the makeup is also very stylish. And the wavy hair 'I'm loving it'.
you should try out there style.
Bella is one of the main people in the movie she is littrely the girl with the hard choices in life but she allways makes the right choice she is in this torn between to men jacob and edward but she loves them both but she marries Edward i think. But yes comment on who you think is the best JACOB or EDWARD.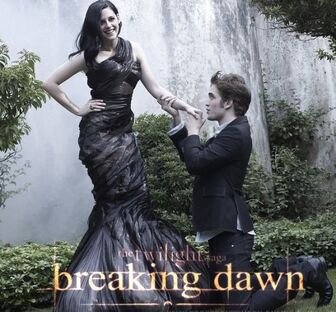 Twilight , New Moon , Eclipse and Breaking dawn are all one of my favorite movie's they are GREAT and you would say the same if you had watched it. Bella and Edward or also known as kristen Stewart and Robert Pattision get married in the movie Breaking Dawn but something bad is gonna happen i think in the movie with the volturi crew.
Midnight Sun is a twilight movie i think it is kinda about Renesmee's story but im not sure they are gonna publish it in the cinema for some reason but it is mainly just vampires in the movie no humans no werewolfs i THINK. Im not so sure but this it what it said on Sun Wikipedia I will have more Infomation on the subject soon and i will put up a video for you guys okay. So i am back with more info on the story and i think they are just writing a book no movie in the cinema but thats fine you can buy the book in stores when its out in the shops.
Twi-CrushesEdit
My Teams!Edit
| | |
| --- | --- |
| | This user is on Team Jacob. |
| | |
| --- | --- |
| | This user is on Team Alice. |
| | |
| --- | --- |
| | This user is on Team Rosalie. |
| | |
| --- | --- |
| | This user is on Team Esme. |
| | |
| --- | --- |
| | This user is on Team Leah. |
| | |
| --- | --- |
| | This user is on Team Bella. |
| | |
| --- | --- |
| | This user is on Team Carlisle. |
Template:Team Edward
| | |
| --- | --- |
| | This user is on Team Renesmee. |
| | |
| --- | --- |
| | This user is on Team Victoria. |
| | |
| --- | --- |
| | This user is on Team Wolf Pack. |
| | |
| --- | --- |
| | This user is on Team Everyone. |
| | |
| --- | --- |
| | This user is on Team Volturi. |
| | |
| --- | --- |
| | This user is on Team Renesmee. |
My Favorite Pages
Edit
Team Jacob & Team Edward?Edit
'
Okay these are the two that brings
me to my knees when iit comes to who's the best. It is so hard to chose a favorite our of these two, but i have to come to a decision. I can't keep saying i like them both i need to CHOSE! but the to Characters make it so hard gosh! Jacob is a were-wolf and really cares for Bella and stuff but then i think about Renesmee . Like Jacob and Renesmee are good together to. Then i think about Edward like Edward and Bella are great together its just so confusing you know? Okay i need some advice on this i need to make a decision sooner or later. Who would you choose cause i am lost right now! Hopefully i will make a decision by the time Breaking Dawn comes out.
Midnight SunEdit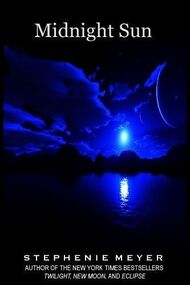 As of August 28, 2008, the release date of the book has been postponed indefinitely and it is not certain that it will be published. Meyer halted the writing of Midnight Sun after the illegal leak of 12 chapters of the unfinished manuscript on the Internet. She stated, "If I tried to write Midnight Sun now, in my current frame of mind, James would probably win and all the Cullens would die, which wouldn't dovetail too well with the original story. In any case, I feel too sad about what has happened to continue working on Midnight Sun, and so it is on hold indefinitely." Meyer does plan to publish the book, because she believes Edward deserves to have his version of the story.
Meyer later slightly recanted the statement that appeared on her website, telling EW "That was a joke! And it sounded so serious amidst all the lawyer talk and I think my fans thought, wow, she's threatening to kill everyone! **Laughing**. I felt kind of bad about that. I never felt any anger, actually. Just a lot of sadness. I mean it was a sucker punch — like someone came up behind you and just hammered you in the kidneys and you had no idea it was coming."[4] She has made the leaked chapters available on her website in fairness to her readers, now that the novel has been compromised before its intended publication date.
In a recent interview done with EW, Meyer has stated that, "So my goal is to go for, like, I don't know, two years without ever hearing the words Midnight Sun. And once I'm pretty sure that everyone's forgotten about it, I think I'll be able to get to the place where I'm alone with it again. Then I'll be able to sneak in and work on it again."[5] This statement jokingly lead to the creation of a nickname for Midnight Sun, created at the Twilight Lexicon: Dark High Noon, in an attempt to still be able to talk about Midnight Sun, but not mention its name directly.
Taylor Lautner's Werewolf Grows Up In 'Breaking DawnEdit
Eventually, all werewolves have to grow up. Jacob learns that lesson during the finale of the "Twilight" series, "Breaking Dawn," and as it turns out, the man behind Jacob, Taylor Lautner, has been learning the same lesson each and every day.

MTV News' Josh Horowitz sat down with Lautner while he was promoting the penultimate "Twilight" release, set to hit theaters Friday. Lautner said the Jacob we see in "Breaking Dawn" is a whole other type of animal. "It was really exciting for me, because Jacob in this movie is very different than he ever has been, so I was a little nervous. I was excited," he said.
For Lautner, "Breaking Dawn" was a chance for each of the film's characters to show a different side, but he admitted that he struggled particularly with Jacob.
"It's really amazing to see all of the characters, really, in a different light than you've ever seen them before," Lautner said. "But Jacob was a challenge in this movie, being pulled in two totally different directions and kind of being the middle man. He has to make a decision: which side are you going to choose?"
In "Breaking Dawn," Jacob must decide between his loyalties to Bella and her unborn vampire child and his wolf pack, a very adult decision for a teenage werewolf to make. Lautner himself still has his moments of immaturity but said it's all part of the bigger picture.
"I have my kid-fun moments, I guess, but I would say it's a good mixture. I don't think you've ever found exactly who you are," he said. "I'm always continuing to grow and learn more about myself each and every day, so I can definitely relate to that."
Breaking Dawn Part-2Edit