My full name is Brizeyda (aka Briss) I'm from Puebla, Mexico.
I have 18 years. I was born on 5 April 1992 establishing.
I have two brothers, a twin sister named Danni
and my brother 21. When I have 6 years old my family and I moved to
the United States in Phoenix, Arizona ...
I can say that I suffered a lot because I had to go through the racism
of a teacher when entering sixth grade.
when my mom hears about this decided it was time to return to live in Mexico
that was when it enters seventh grade. I really liked the experience of living in Phoenix
and I had the pleasure of meeting a very good American people ...
I hope to return soon because I want to continue my studies.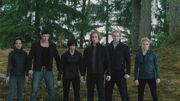 Well, I am a big fan of Twilight. I have read over and over again the books.
I love Stephenie Meyer for having done and
I hope to finish writing the book midnight sun.
I love the character of Alice, I think it is a circumstantial
character for Twilight movie ...
I think that Stephenie Meyer had the great idea of creating this
character and give the go-ahead for Ashley Greene obtain this role. I believe that this personage is the one you loved the public not only
in books but in movies (even if these are an adaptation of the books)
I think Ashley has interpreted its role very well and change over the
movies for us to continue amanda as she does in the books.

I've seen over and over the three movies that
have come so far and I would have liked to
have stayed Rachelle Lefevre as Victoria in the Eclipse movie.

I hate Jane, Aro, Marcus... well all te Vulturi coven.

I am with Team Edward, Team Alice and Team Bella!!!