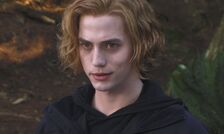 HI! I am AliceCullenJasperHale and i am a HUGE fan of the whole twilight saga! and when I say HUGE I mean the hugest ever and that there is not a word that can describe it! I <3 Jasper Hale, he is freaking adorable! His hair is really COOL!
I live...really far away from America, in a sunny country with history (ancient) hope u understand! LOL!
I am interesting in reading and i am quite fond of writing stories (especially with Twilight, idk wwhy but this characters inspire me!) i have already write sm big, i am working on sm!
My fave subject at school are greek, ancient greek, biology, physics, chemistry and i HATE P.E! I know it might sound crazy, but i really do! I also hate the well-known maths, i am awful at maths. i also learn English, it more easy that the other launguages i learn (other 3)
I want to learn to play the quitar.
i think that's enough.... I don't want make u fell bored!
AH! And srry if my english sucks! ok? be nice!
My favorite pages
Edit
Woozword!
Quizazz
Twilight pages!