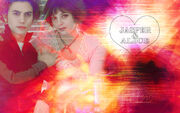 Biography
Edit
Hello, my name is Alice&Jasper_forvever_21 and I as many of you have read the Twilight Saga and Part of Midnight Sun. I`ve seen the Twilight movie and love`d it...:P I also have the Twilight Soundtrack, I can`t wait for the rest of the book(s) and movies....:D As you can see im a Alice Cullen and Jasper Hale person but I love everything about the books and movie(s)!!! So yes im Team Alice no doubt but also Team Jasper. I am also big fan of Edward Cullen and the rest of the Cullens for that matter and the Olympic Coven. I`ve never been to Forks or know that much about the movie actors, but I do love the books/charcters. I only joined January of 2009 but have spent as much of time as possible helping to improve The Twilight Saga Wiki. So I will keep making any contributes I can that can help....and you should too!!!! :P
ttyl....--Alice&Jasper forever 21 00:30, 9 March 2009 (UTC)♥
I love quotes and quotes from the Twilight Saga are the best, here are a few of my favourties:
1. "I'm betting on Alice."-Bella Swan (Twilight)
2. "Listen to me! Our family is strong, our only fear is losing you."-Jasper Hale (Twilight)
3. "I've never seen anyone so prone to life threatening idiocy!" -Alice Cullen(New Moon)
4. "Who's afraid of the big, bad wolf?"-Jacob Black (New Moon)
5. "I'm really glad Edward didn't kill you. Everything's so much more fun with you around."-Emmett Cullen (Eclipse)
6. "I prefer brunettes."-Edward Cullen (Eclipse)
7. "You want me to be all doom and gloom, or just shut up?"-Seth Clearwater (Breaking Dawn)
8. "I love you, too, Momma. We'll always be together."-Renesmee Cullen(Breaking Dawn)
9. "I'll miss you. No matter how short a time your gone."-Alice Cullen (Midnight Sun)
10."Rather unimaginative, actually. Just the barest hint of scandal. Not an ounce of horror. I'm a little disappointed."-Edward Cullen(Midnight Sun)
Merchandise
Edit
I have had the privilege to buy the Twilight Soundtrack ,so I consider myself a Twilight fan but i don't have everything I want of Twilight. Here's what I have and seen, see if you want anything that you might like to buy. Plus here are somes links to get anything you might want!
1. Twilight Saga Book Series -[[1]]
2. Twilight SoundTrack -[[2]]
3. Twilight Posters-Walmart
4. Twilight Bookmarks and Wallpapers-[[3]]
5. Twilight Clothes/Jewelery-[[4]] and [[5]]
Twilight Saga- The Movies
Edit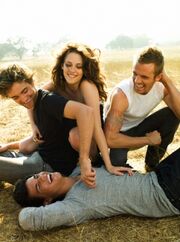 Twilight- The Movie came out 21/08/08 and was a hit. Making about $70.5 million in the opening weekend but made $35.7 million on opening day! Which caused Summit Entertainment to officially announce that they would start filming of New Moon in March of 2009. Then later announced that the movie should be released in November of 2009. Later we were told Eclipse would be filmed right after in Vancouver,BC. The Cast is supposed to be the same with some additions (The Volturi and Quileutes).
The Cast
 Kristen Stewart as Bella Swan,
Robert Pattinson as Edward Cullen,
Taylor Lautner as Jacob Black,
Ashley Greene as Alice Cullen,
Jackson Rathbone as Jasper Hale,
 Peter Facinelli as Carlisle Cullen,
Elizabeth Reaser as Esme Cullen 
Edi Gathegi as Laurent,
Anna Kendrick as Jessica Stanley 
Christian Serratos as Angela Weber 
These are the actors that have been confirmed that they're portraying the same characters as in Twilight.
There has also been gossip about who will be playing Leah Clearwater (Vanessa Hudgens), Jane (Dakota Fanning) and Alec (Lucas Grabeel). But no one has confirmed so right now its just being talked about. There is also questions about who will be playing the rest of the Volturi and their guard.
Set
Right now from what I've heard New Moon is going to be filmed in Vancouver, British Columbia, Canada (which is rather close to myself!!!). I can't wait for New Moon and Eclipse to be filmed on my home turf!
Dates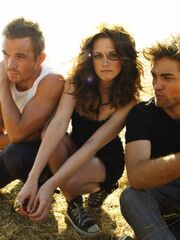 Twilight-DVD release on Saturday,March 21,2009
New Moon-Filming March 2009, Released (hopfully) by November 20,2009
Eclipse-Filming after release of New Moon so around December-January  
New Moon Cast
All actors will being portraying the same charaters (except James-Cam Gigandet) Plus here are the new actors playing the new characters.
Dakota Fanning as Jane