Template:Infobox
Hello my name is Jazmine like the flower.I'm currently 13 years old and I'll be 14 in November.I'm a big fan of the twilight saga series.I'm currently reading Twilight and yes I'm starting over again.I'm mostly a fan of the movie than the book.Because I was'nt a fan at first but when I enterd middle school it became an obsession I had posters of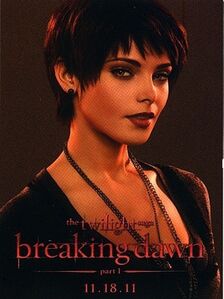 twilight all over my room and I even wanted to buy the toy.
I'm a friendly person to talk to and also sweet because even though I come out mean and stuff I'm still nice so yeah.If you wanna talk then send that message on my talk page and comment also.I'm also a roleplayer but only on facebook because I can't roleplay on a wikia it would be werid anyways.I've been roleplaying scince I was 11 years old.I know it's a little young to start roleplaying but hey it's actually fun.I roleplay Alice Cullen,Rosalie Hale,Bella Swan,Victoria Sutherland,And Esme Cullen.I don't just roleplay twilight I also roleplay my favorite show called Degrassi.The characters I roleplay for degrassi are Imogen Moreno,Emma Nelson,Eli Goldsworthy,and Manny Santos and I also make up characters too.
---
Twilight History
Edit
Well when I heard about Twilight in 2008 I thought it was stupid and annoying because all the fans would get on my nerve's but that was when I was in elementry school with my other friends and when I saw the new moon trailer I was like OMG! haha because I saw Jacob Black's sexy body but I'm still on Team Edward.Ok fine and I'm Team Jacob also ok happy?Well when I started middle school I was offically a twilight geek because I know everything about the movie,the book,and the actors in it.But my obsession for Edward Cullen grew bigger and bigger that's how muched I loved him.I even made a fan club for them at my school it's called the Twilight Fan Club haha of couse duh?!Well I have posters of twilight in my room ok?And I have two Edward Cullen one's because I think he's sexy.Don't judge me girl haha lol.Well all you need to know is that I love twilight!