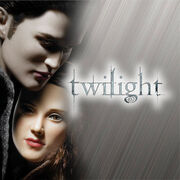 Many companies have created Twilight dolls based on the series' characters.
Tonner Doll Company, a designer of collectible dolls and figures, created a series of Twilight dolls. They began with Bella Swan and Edward Cullen, based on the characters played by Kristen Stewart and Robert Pattinson in the film Twilight.
Twilight Tonner Character Figures™ range from 15"-17" tall, with multiple articulated joints for expressive movement and mobility. They also feature hand-detailed face painting, rooted hair, and authentic costuming.
Tonner's marketing division began to take shape with its Harry Potter film series, and is now in full swing with the addition of Twilight. Romances are abundant in both storylines and have become much more important elements to this burgeoning, sought after segment of buyers. "Twilight was the perfect project to help launch us further into the teen and adult market," Robert Tonner, CEO and head designer of the Tonner Company says. "I am a huge fan of Stephenie Meyer's work and I intend to read everything she writes," Tonner explains. "She is unbelievably talented and it's an honor to be able to work on this project."
Tonner plans to release other characters from the film, in addition to Edward and Bella. "I want to make them all," Tonner admits. "I'm having such a blast reading the books and getting to know all of the characters. I'm also reviewing movie stills, sculpting and designing. I'm completely immersed in their world," he says. The latest character that they are creating a doll for is Alice Cullen, based on her portrayal by Ashley Greene.
The company NECA created New Moon action figures, including Jacob, Jasper, Edward, Alice, and Bella. The Barbie Company also made New Moon Barbie dolls.
Eclipse dolls were released during the summer of 2010, according to the official Twilight Twitter.
Ad blocker interference detected!
Wikia is a free-to-use site that makes money from advertising. We have a modified experience for viewers using ad blockers

Wikia is not accessible if you've made further modifications. Remove the custom ad blocker rule(s) and the page will load as expected.