Toshiro
Biographical information
Born

Japan

Died
Physical description
Species
Gender

Male

Hair color

Black

Eye color
Skin color

Pale

Special characteristics
Abilities

Basic vampire abilities
"I would never go against you."

―Toshiro's words to the Volturi.
Toshiro was a Japanese nomadic vampire who appeared in Breaking Dawn - Part 2, and a character created exclusively for the movie.[1]
Biography
Breaking Dawn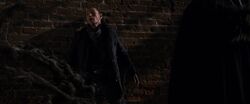 "It seems Carlisle is still expecting you."

―Aro
Carlisle asked for his aid when the Volturi threatened to destroy his family, and Toshiro agreed to meet them in Forks. However, before he arrived, the Volturi tracked him down in London. He tried to escape, but was eventually caught, and Aro interrogated him. He attempted to lie about siding with the Cullens, but Aro read his thoughts. After claiming his knowledge and finding out that Carlisle was still expecting him, Aro had him disposed of.
Physical appearance
Toshiro was a vampire of Japanese descent. He had long black hair with a stubble on his chin and wore a black outfit, and like any other vampire, he had blood red eyes.
Film portrayal
Toshiro is portrayed by Masami Kosaka in Breaking Dawn - Part 2.
While being interviewed at the Breaking Dawn - Part 1 movie premiere theater, he said that his character was a secret and will appear in the second movie.[2]
Appearances
References