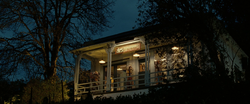 Thunderbird and Whale Bookstore is a fictional shop that Bella Swan visits in the Twilight movie.
In the movie, Bella accompanies Jessica Stanley and Angela Weber to Port Angeles to go dress shopping for the prom, and later leaves them in a sideline to it to buy a book about Quileute legends she wants to find clues about the Cullens' mystery, which is connected to the Quileute tribe's history.
The bookstore was filmed in an attorney office located in St. Helens, Oregon.