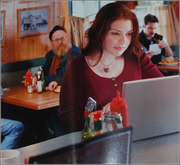 The Lodge is a grill restaurant located in Forks, Washington. It is said to be a favorite of Charlie Swan's, and is described as slightly tacky with stuffed animals on the walls. The Lodge is perhaps one of the very few formal and high class restaurants in town, and was often filled with large groups after any major town event. Bella and Charlie, along with many other people (which bugged Bella because she wanted to return to Edward after she gave him the news that Victoria and her newborn army were looking for her), went to the Lodge for a celebratory graduation meal.
Plot
Twilight
Main article: Twilight
In the movie, it's renamed "Carver Café", and Charlie patronizes it every Thursday for steak and cobbler, as he is a rather indifferent cook.
In the film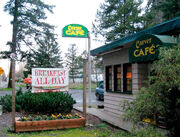 Main article: Filming locations
In the film, Bella and Charlie often eat at a restaurant called "The Carver Café". These scenes were filmed at the real "Carver Café", located at 16471 SE Highway 224, in Damascus, Oregon.
Appearances