Swo-wo Gabriel
Biographical information
Born

November 24

Gender

Male

Career
In Twilight saga
Notable roles

Tim Henry - Blackstone

.
Swo-wo Gabriel is the actor who portrays Brady Fuller in Breaking Dawn.
Biography
Swo-wo is of the Squamish Nation and is very active in his community through pow-wow dancing, traditional drumming and singing to Coast Salish cultural teachings.[1]
Swo-wo Gabriel had his first break playing "Tim Henry" on the Canadian TV series Blackstone[2].
According to The Chief, the TV series Blackstonefeatures Gabriel as young Tim Henry, who is physically and sexually abused by his uncle and must testify in court.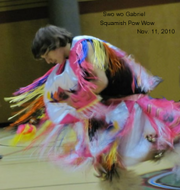 Trivia
He has experienced a few great years Canoe pulling with his fellow Young Bucks.
Very athletically outgoing in football and has been leading his team for many years
References
External links