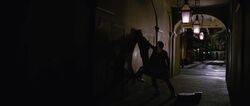 Nomads are vampires or human/vampire hybrids who wander the world on their own or with a single partner, without generally being affiliated to a coven; certain covens can also be termed nomadic, without claiming a specific territory of their own. Most, if not all, nomads drink human blood.
History
Twilight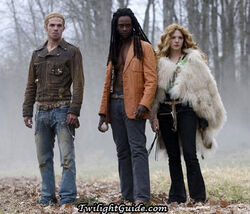 There are few nomadic vampires in Twilight, as the novel serves mostly as an introduction to vampires and their culture. However, what action there is involving nomads is crucial to Twilight, New Moon and Eclipse. James' coven, consisting of himself, Victoria, and Laurent, shows up while the Cullens are playing baseball, and James immediately begins hunting Bella — partially because of the way that Edward defends her, and partially because her blood smells very tempting to any vampire, despite the particular potency that it holds for Edward. James tracks Bella to Phoenix, Arizona, but is killed by Emmett and Jasper before he can kill Bella.American nomads Peter, his mate Charlotte, Mary, and Randall are American nomads. Peter is Jasper's good friend, and helped Jasper escape his previous life as a general of newborn vampires. Though he feeds on human blood, he does not agree with the execution of newborns after they have outlived their usefulness. In the past, Jasper lived with Peter and Charlotte, but chose to leave because of his ability to sense his human prey's emotions. All four of these nomads join the Cullens as witnesses in Breaking Dawn. In The Twilight Saga: Breaking Dawn - Part II, Peter is set to be portrayed by Erik Odom, Charlotte by Valorie Curry, Mary by Toni Trucks and Randall by Bill Tangradi.
New Moon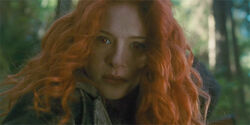 Victoria shows up again in New Moon after Edward leaves, planning to kill Bella in retaliation of James' death at the Cullens' hands. Laurent also comes back and is subsequently killed by the werewolves, although he is not a nomad by that point as he has joined Tanya's coven in Denali, Alaska.
Breaking Dawn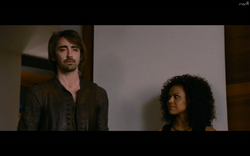 Breaking Dawn has the most interaction with nomads, as many vampires come from all over the world to testify for the Cullens that Renesmee is not an immortal child but a vampire-human hybrid. The nomads who side with the Cullens include Peter, Charlotte, Garrett, Randall, Mary, Huilen and her hybrid nephew, Nahuel; among the nomads who accompany the Volturi to Forks are Makenna and Charles.
In the movie Breaking Dawn - Part 2, a Japanese nomad Toshiro is briefly included.
Known nomads
Vampires
Hybrids
Former nomads