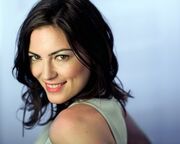 Monique Ganderton is the actress who portrays the role of the Cold Woman in Eclipse. She was born in Edmonton, Alberta, Canada.
Career
Ganderton was discovered at a local shopping mall in Edmonton by a modeling agent and agreed to give it a try. She moved to Toronto at 18 to pursue modeling. A few days on set watching a stunt woman triggered an internal passion for action. Ganderton soon pursued stunt work adamantly. Her first stunt gig came on The Recruit, where she met Bridget Moynahan and Al Pacino. The job secured Ganderton as an up-and-coming stunt actor. Ganderton then relocated west to the ocean and has been working full time as a stunt woman for the last seven years.
Ganderton has stunt doubled Sigourney Weaver, Tricia Helfer, Bridget Moynahan, Leelee Sobieski, Darryl Hannah, Famke Jensen, Rebecca Romijn, Karen Cliché, Stacy Keibler, Amanda Tapping, Mandy Moore, Monica Schnarre, Amelia Cooke and Jane Lynch.
Personal life
Ganderton has two sisters, Christine and Angela. She has a dog named Rocky that she adopted from the SPCA shelter, a cat named Apollo that she found in a box in an alley, and a horse named Baby that she rescued from a run-down farm on a mountain side.
Ganderton has always had a passion for sports and adventure. She achieved high levels of track and field, equestrian show jumping and is also a certified snowboard instructor. She was involved in diving, gymnastics, softball, skating and dabbled in martial arts. Ganderton has always been an avid writer and artist and thought about going into journalism prior to performing. In the future, she hopes to use her writing and performing experience to create projects.
External links