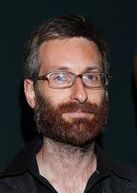 Michael Wilkinson served as the costume designer for the Breaking Dawn - Part 1 and Breaking Dawn - Part 2. His other works include 300, Watchmen, Terminator Salvation, TRON: Legacy, and Sucker Punch. He also designed the costumes for the closing ceremony of the Sydney 2000 Olympic Games.
Breaking Dawn
In the Breaking Dawn - Part 1 Official Illustrated Movie Compantion, Wilkinson said that he did not only work close with the director, but with the department of photography, the production designer, and the hair and makeup departments.
Bella's wedding gown
Wilkinson, Stephenie Meyer, and director Bill Condon wanted Bella Swan's wedding gown to have a vintage feel, but to also capture a sense of young love. With wedding dress designer Carolina Herrera, many versions were considered, until they came upon the final gown. They "knew this would give the dress an instantly recognizable quality appropriate for such an iconic costume."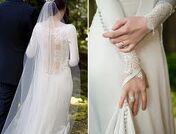 Wilkinson, on Bella's wedding dress:
"The dress has very unique, sinuous seams running down the front, with panels of parallel stitching at the waist, dozens of tiny silk-covered buttons down the center back and at the cuffs, and a flared train. All of these details bring to mind the corseted hourglass dresses of the Edwardian era. Yet, the choice of a supple silk satin, cut on the cross-grain, with no structured under-pinnings, makes the dress seem contemporary and fresh. The scooped neckline is demurem, the sleeves are long, and yet the thin double layer of satin reveals every line of Kristen's amazing physique. The result is a perfect combination of modest and modern."
Alice's maid of honor dress
Inspired by Ginger Rogers and combined with influences with a contemporary aesthetic, Wilkinson started sketching Alice Cullen's maid of honor dress. He and Ashley Greene both loved the idea of a short, flapper-style dress with 1920s-style iridescent beading and ostrich-feather detailing.
The Denali sisters
In the novel, before the Denali sisters converted to "vegetarian" vampirism, they were temptresses whose sexual conquests usually ended up in blood. Hair, makeup, and costumes worked together for the Irina, Kate, and Tanya characters.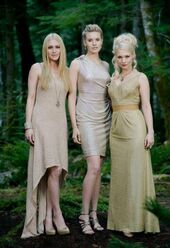 Wilkinson, on the Denali sisters:
"They had to walk in and be drop-dead gorgeous. This was Bill's and my thing, that even though their amazing beauty makes everyone stop and stare, you had to believe these people could walk through the world as we know it and not be front-page news! By the choice of silhouettes, necklines, and fabrics, I made sure they looked great as a team, but also had variations for their characters."
Bella and Edward's honeymoon
Also in the Official Illustrated Movie Companion for Breaking Dawn - Part 1, Wilkinson discussed Bella's choice of fashion for her honeymoon on Isle Esme with Edward: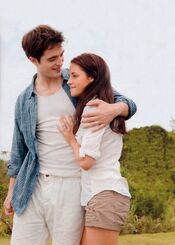 "Bill and I were excited about the honeymoon as the classic American summer vacation, almost like JFK and Jackie at Martha's Vineyard. We wanted it to be fresh and romantic and young, for the audience to delight in seeing Bella finally out of her flannel shirts and into clothes Alice had chosen for her. Bella struggles with this image of herself, not feeling quite herself in the ladylike dress Alice packed for the trip to Rio; the mortifying lingerie; and the cute, sweet, white bikini. As the holiday goes on, we had fun exploring how Bella starts to relax and add her own inevitable style. She wears some of Edward's shirts and starts throwing clothing together, maybe not the way Alice intended, but in a more spontaneous, Bella-like fashion."
External links