Marie Higginbotham
Biographical information
Died

1999

Alias

Gran

Physical description
Species
Gender

Female

Hair color

Pale Brown

Eye color

Brown

Skin color

Pale

Family information
Family members
Marie Higginbotham was Renée Dwyer's mother, and has been deceased six years prior to the beginning of New Moon, when Bella was either eleven or twelve. She has a minor but important role in New Moon, because Marie's appearance plays a part in Bella's choice to become a vampire.
Biography
According to The Twilight Saga: Official Illustrated Guide, Marie Higginbotham was a difficult, bitter woman but hardworking and loyal. She was divorced from her husband when Renée was still a child. She never got along with her daughter due to their different personalities. When Renée got married to Charlie Swan, she was sent a photograph of the wedding, but Marie didn't respond. Renée later wrote to Marie, telling her that she was pregnant. Marie sent Renée her own mother's handmade quilt, at which Renée was touched. Renée was going through a depression when she left Charlie, and moved back in with her mother. Marie was still difficult but doted on Bella. Marie passed away in 1999, when Bella was twelve years old.
New Moon
The night before her eighteenth birthday, Bella has a dream. In her dream, she is standing across from her grandmother in Edward's meadow. Edward comes to stand beside Bella, even though she worries that Gran will see Edward glistening in the sun. Then Bella realizes that Gran has her arm around someone invisible, and that Gran has the same expression Bella has. As Bella moves forward, Marie copies all of her movements, and Bella realizes that it is not her grandmother but herself in the mirror. The dream represents Bella's fear of growing old, while her love, Edward, stays young forever. This makes Bella even more insistent upon being transformed into a vampire, so she can be with Edward eternally.
Film portrayal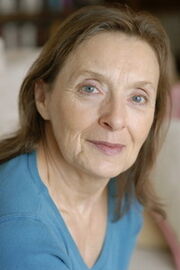 Christina Jastrzembska was cast as Marie Higginbotham in the film adaption of New Moon.
Mentioned in