Leah Gibson
Biographical information
Born

January 3, 1985; Victoria, British Columbia, Canada

Gender

Female

Eye color

Brown

Hair color

Brown

Height

5'7"

Family

Erin (twin sister)

Career
Years active

2007-present

In Twilight saga
.
Leah Diane Gibson is the actress who portrays Nettie in the Eclipse film.
Personal life
She grew up in Victoria, a small city on Vancouver Island, in British Columbia, Canada. She has a twin sister, Erin, who lives with her husband in Doha, Qatar.
Gibson and her sister began dancing at the age of four, marking the beginning to her many years of training and performance in such dance forms as ballet, modern, contemporary/lyrical, jazz and Broadway jazz. It was through dancing, in combination with her incessant and persistent passion for singing, by which Leah discovered her love for musical theatre. In her graduating year, Gibson transferred to a high school specializing in fine arts. Though the school was on the other side of town and outside of her district, cross-boundary transfer stipulations were immediately excused by the principal after taking one look at her grade transcripts.
In her graduating year, Gibson performed in four musical theatre stage productions, (including her first lead role, as Velma Kelly in Chicago); the senior vocal jazz and concert choir, the high school dance troupe, as well as continuing to train and compete with the Sinclair Academy of Performing Arts—and all while maintaining honour-roll grades, graduating at the top of her class.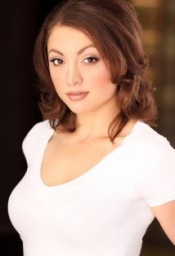 Following graduation, Gibson went on to the University of Victoria where she studied psychology. She was among the select few who were invited to study under the UVIC Honours program.
She is currently in a relationship with actor Adam Beach.
Career
Her life took a major turn of events when she was simultaneously cast in her first professional production with a national touring company. She withdrew from university in preparation for company rehearsals, but within 2 months the company lost its funding and the show was cancelled. Having missed the university class enrollment cut-off date for the following semester, she moved to Vancouver to pursue film acting.
Within 6 months of signing an agent, Gibson booked her first lead role on a feature film—The Cycle, starring Daryl Hannah. Other work within her first year include such projects as the Hollywood blockbuster Watchmen.
Gibson's career has grown exponentially since. She is currently featured as a recurring character on the Battlestar Galactica prequel Caprica, and appeared in The Twilight Saga: Eclipse as the vampire Nettie.
When Gibson is not working on set, she occasionally still performs on stage, singing and dancing at local venues in Vancouver.
Filmography
Film
Year
Title
Role
Notes
2008
Odysseus: Voyage to the Underworld
Penelope
2009
The Devil's Ground
Amy Singer
Watchmen
Silhouette's Girlfriend
Happy to Be Here
Barbara
2010
The Metal Box
Anna
Short film
The Twilight Saga: Eclipse
Nettie
A Night for Dying Tigers
Carly
2011
The Fence
Autumn
Short film
Rise of the Planet of the Apes
Alyssa Williams
2012
Kill for Me
Natalie Pritchard
completed
Indie Jonesing
Gina
post-production
Leave Us Alone
Short film
Television
Year
Title
Role
Notes
2007
Psych
Slut
Episode: "Rob-a-Bye Baby"
Second Sight
Nicole Smittz
TV movie
Tin Man
Twister Dancer
Episodes:
"Into the Storm"
"Search for the Emerald"
"Tin Man"
2009
Stranger with My Face
Lia's Nurse
TV movie
Riese
Hannah
Episodes:
"Fragments"
"Bind"
2010
Betwixt
Emily
TV movie
Caprica
Emmanuelle
Episodes:
"The Imperfections of Memory"
"Ghosts in the Machine"
"End of Line"
Supernatural
Palomino
Episode: "Two Minutes to Midnight"
2011
He Loves Me
Sophie Hawkins
TV movie
Soldiers of the Apocalypse
Ella Sticks
Episode: "Any Last Words?"
2012
Arctic Air
Candi Lussier
Episodes:
"Out of a Clear Blue Sky"
"All In"
"New North"
The True Heroines
Ruby Fitzgerald
Episodes:
"For All We Know"
"Come On-a My House"
Dark Universe
Chloe Banks
TV mini-series
American Housewife
TV Pilot
2013
Eve of Destruction
Chloe Banks
TV mini-series
Rogue
Cathy Laszlo
pre-production
External Links