Ad blocker interference detected!
Wikia is a free-to-use site that makes money from advertising. We have a modified experience for viewers using ad blockers

Wikia is not accessible if you've made further modifications. Remove the custom ad blocker rule(s) and the page will load as expected.
Jodelle Ferland
Biographical information
Birth name

Jodelle Micah Ferland

Born

October 9, 1994 (1994-10-09) (age 22); in Nanaimo

Nationality

Canadian

Gender

Female

Eye color

Blue

Hair color

Dark brown

Height

5' 2" (1.57 m)

Family

Valerie Ferland (mother)
Marisha Ferland (sister)
Jeremy Ferland (brother)

Website
Career
Years active

1999 - present

In Twilight saga
Notable roles

Desi Gill in Mermaid
Jeliza-Rose in Tideland
Sharon Da Silva/Alessa/Dark Alessa in Silent Hill

Emmy Awards

Outstanding Performer in a Children's Special (nominated)

.
Jodelle Ferland (born October 9, 1994) appears in Eclipse as Bree Tanner.
Ferland was born in Nanaimo, British Columbia, the daughter of Valerie Ferland. Her siblings are actress Marisha Ferland and musician Jeremy Ferland. She is of Austrian, French, and British descent.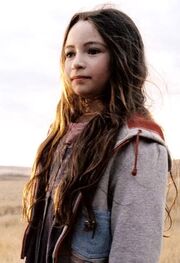 She made her movie debut at age 4 in the TV-movie Mermaid, for which she received a Daytime Emmy Award nomination, making her the youngest nominee in the award's history. She has since made guest appearances in several televisions series, including Stargate Atlantis, Dark Angel, The Collector, Stargate SG-1, Smallville and Supernatural, and has appeared in films including They and Trapped. In 2005, she starred in the Terry Gilliam drama Tideland, for which she received a Genie Award nomination in the Best Actress category. Later, she appeared in the 2006 film Silent Hill, an adaptation of the well-known video game, and had a supporting role in Good Luck Chuck for Lions Gate Entertainment. In 2006 she filmed the movie Case 39 opposite Renée Zellweger; its release date had been delayed twice before its final release date on October 1, 2010.
Jodelle admits that choosing this part was a no-brainer. "Usually I read the script before I take a role, but I haven't read this one," she explained. "It's Twilight, of course I'm going to take it."
Filmography
Edit
Year
Film
Role
2000
Mermaid
Desiree Leanne 'Desi' Gill
The Linda McCartney Story
Heather (age 5-6)
Special Delivery
Samantha Beck
2001
Trapped
Heather
Deadly Little Secrets
Madison
The Miracle of the Cards
Annie
2002
They
Sarah
Carrie
Little Carrie
2003
Mob Princess
Young Patti
2004
Kingdom Hospital
Mary Jensen
10.5
Little 'Wow!' Girl
Too Cool for Christmas
Alexa
2005
Tideland
Jeliza-Rose
2006
Silent Hill

Sharon Da Silva / Alessa /

Dark Aless

Amber's Story
Nichole Taylor Timmons
Swimming Lessons
Zoe
The Secret of Hidden Lake
Young Maggie Dolan
2007
The Messengers
Michael Rollins
Seed
Emily Bishop
Good Luck Chuck
Lila Carpenter
Pictures of Hollis Woods
Hollis Woods
2008
Céline
Young Celine
Wonderful World
Sandra
2009
Case 39
Lillith Sullivan
2010
The Twilight Saga: Eclipse
Bree Tanner
The Cabin in the Woods
Patience Buckner
Television
Edit
Year
Show
Role
1999
Cold Squad
Hailey Hatcher
2000
Higher Ground
Young Juliette
2000
Sole Survivor
Nina Carpenter
2001
Wolf Lake
Lily Kelly
Dark Angel
Annabelle Anselmo
The Lone Gunmen
Mary the Little Girl
So Weird
Maria
2002
Special Unit 2
Focus Group Girl
John Doe
Jenny Nichols
2003
Smallville
Emily Eve Dinsmore
Dead Like Me
Kirsti
2004
The Collector
The Devil / Little Girl
2005
Supernatural
Cameo in a family portrait
2006
Supernatural
Melanie Merchant
Stargate SG-1
Adria (age 7)
Masters of Horror
Lisa
2007
Stargate Atlantis
Harmony
2009
Captain Cook's Extraordinary Atlas
Gwen
2011
R. L. Stine's The Haunting Hour
Alice
2012
R. L. Stine's The Haunting Hour
Sara
2015-current
Dark Matter
Das/Five
Year
Award
Category
Result
Role
2001
Young Artist Award
Best Performance in a TV Movie (Comedy or Drama) - Young Actress Age Ten or Younger
Won
Desi Gill in Mermaid
Emmy Award
Outstanding Performer in a Children's Special
Nominated
2004
Young Artist Award
Best Performance in a TV Series - Guest Starring Young Actress
Nominated
Emily Eve Dinsmore in Smallville
Leo Award
Dramatic Series: Best Guest Performance by a Female
Nominated
The Devil/Little Girl in The Collector
2005
Young Artist Award
Best Performance in a TV Series (Comedy or Drama) - Young Actress Age Ten or Younger
Nominated
Mary Jensen in Kingdom Hospital
2007
Genie Awards
Best Performance by an Actress in a Leading Role
Nominated
Jeliza-Rose in Tideland
Saturn Award
Best Performance by a Younger Actor
Nominated
2008
Young Artist Award
Best Performance in a TV movie, miniseries, or special - Leading Young Actress
Nominated
Hollis Woods in Pictures of Hollis Woods
External links
Edit