Help:Talk pages
Talk

1
984pages on
this wiki
A talk page is a discussion page that you can find attached to some articles and user pages. Talk pages are an older form of Comments (for articles) and Message Wall (for user pages), and they exist for communicating with other users and discussing how to improve a wikia.
How to leave a message
Article talk page
To get to an article talk page from the article, click the "Talk" icon (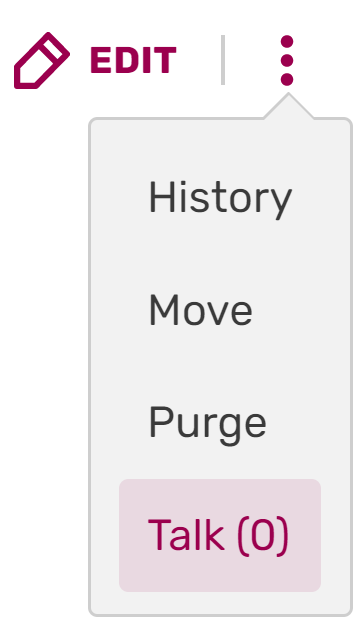 ) next to the "Edit" button at the top of the page. To leave an article talk page message, follow these steps:
User talk page

To get to a user talk page from a user profile, click the "Talk page" tab. To leave a message on the talk page, follow these steps:
Updating to Comments and Walls
Wikia has developed features that have improved the discussion experience for articles and user profiles. For articles, we have Comments, allowing users and readers to instantly comment on a page and share their thoughts. For user profiles, we have Message Walls, a far more intuitive discussion experience. Walls, for example, are threaded, so they keep discussion in one place. They also notify all participants when there are updates to a specific conversation, and can allow anyone to follow a conversation for updates.
We encourage communities to use these features for easier commenting. If they are not already enabled on your wikia, you (or an administrator) can enable them in WikiFeatures.
See also
Further Help & Feedback