You can easily promote your wiki by using the Special:Promote feature. This tool is only available to admins and allows you to upload images and description of your wiki to Wikia's main page.
Step by step
Promoting your wiki on the main page is easy. Just follow the steps and guidelines below!
Write a description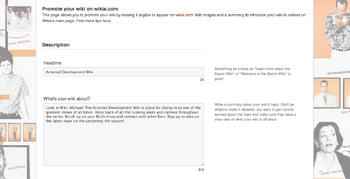 You must first create a description of your wiki. This can reflect the personality of your wiki. Try to keep your description fun and welcoming to attract new users. You can always come back to edit or update the text.
Create a Headline
Craft an exciting headline for your wiki. This can be as simple as "Learn more about the Bacon Wiki" or "Calling all dog lovers!" Get creative!
Your headline must be more than 20 characters
What's your wiki about?
Keep in mind that your description of your wiki needs to be at least 300 characters.
Use this space to showcase some of the highlights of your wiki. Have you recently hit 24,000 pages? Now's your chance to brag!
Upload Images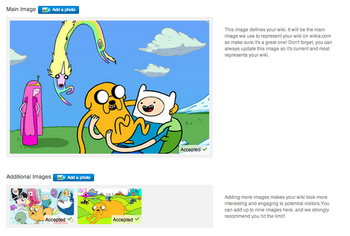 Choose an image to represent your wiki. Try and use a high quality image as it will appear in multiple sizes across multiple browsers.
Publish
Please note that images take 2-4 business days to be approved. Feel free to check your status at Special:Promote on your wiki.
Keep in mind that there are thousands of wikis on Wikia. If you hit the remix feature, it could take awhile before yours appears.
Best Practices for Images
Try and choose an image that best represents your wiki.

Try not submit an image with just plain text.
Do not submit a screenshot of your wiki. These will be rejected

Subject the best quality image you can find

Images that are blurry or look super pixelated will be rejected.

Get creative! Feel free to draw and design your own images to represent your wiki.
Tips & Tricks
All images will go through our image review process before they are approved to be posted.
Please select an image to represent your wiki rather than a screenshot of your wiki.
Remember, once submitted your wiki will be represented on the main page of wikia.com. Please follow our terms of use and stay within those guidelines.
Please be patient, most images take 2-4 business days to be reviewed. You can check the status of your images on Promote to see if they've been reviewed yet.
The remix button remixes all of our wikis that have been submitted to Promote. Once it's approved, don't worry if you don't see it right away, it's mingled in with the rest of our wikis!
Next Pages
Further Help and Feedback