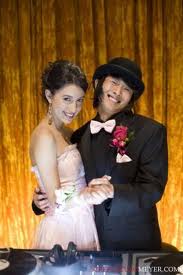 Angela Weber and Eric Yorkie are one of the secondary couples in the Twilight series. Their relationship is only featured in the films; Eric is in a relationship with Katie Marshall and Angela with Ben Cheney in the books. Their Life and Death counterparts are Allen Weber and Erica Yorkie.
In the movies, Angela is portrayed by Christian Serratos and Eric by Justin Chon.
Prehistory
Edit
Angela Weber
Edit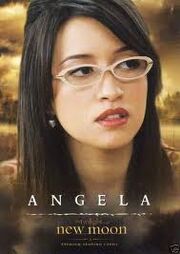 Angela Weber is the daughter of a Lutheran minister and his wife. She is also the Forks school paper photographer, working with yearbook editor Eric, whom she has a crush on.
She grew up in Forks, and grew into a shy but unusually kind-hearted person that wins everyone's good graces. She is well liked by her peers at school.
Eric Yorkie
Edit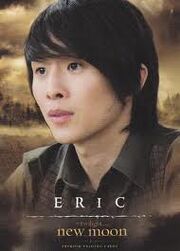 Eric Yorkie is the yearbook editor during his junior year at Forks High School. He developed a brief crush on newcomer Bella Swan before Angela won his affection by asking him to prom.
"I just asked him. I took control."

―Angela
In Twilight, Eric and Angela are both photographer and yearbook editor for the Forks High School newspaper, respectively. After some encouragement from Bella, Angela takes the courage to ask Eric to prom, and he accepts. They are last seen together at the dance, where Eric is the DJ.
Eric and Angela's relationship continues in New Moon, though Eric seemingly still has certain infatuation with Bella, like Mike. They are both stunned when Bella talks to them again months after her depression by Edward's departure. When Bella and Mike invite them to watch a movie with them, Angela gets the stomach flu and Eric decides to take care of her.
In Eclipse, they are only seen together in one scene where they discuss the perfect speech for Jessica, who is the valedictorian for their graduating class. In a deleted scene at Bella's house, Angela mentions that she has been accepted to State University in Seattle and that Eric will be attending the closest college next fall.
Breaking Dawn - Part 1Edit
Eric and Angela attend Bella and Edward's wedding in the first half of Breaking Dawn. When Jessica asks if Bella will be showing, Angela remarks that she is not pregnant. During the reception, they comment Alice's arrangement and the size of the cake, which they found a little too small for a big wedding but nevertheless compliment it in front of Alice.
Ad blocker interference detected!
Wikia is a free-to-use site that makes money from advertising. We have a modified experience for viewers using ad blockers

Wikia is not accessible if you've made further modifications. Remove the custom ad blocker rule(s) and the page will load as expected.