Dawn Chubai
Biographical information
Birth name

Dawn Chubai

Gender

Female

Eye color

Hazel

Hair color

Blond

Height

5'7"

Family
Website

www.dawnchubai.com

Career
Years active

1999-Present

In Twilight saga

Herself in Eclipse

.
Dawn Chubai (pronounced Chew-bay) is the actress who played the role of the female reporter using her own name in Eclipse. Chubai is also an acomplished morning show host. Most of Chubai's roles in movies are news reporters.
Biography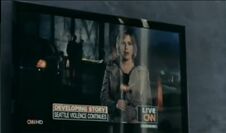 Dawn Chubai was born and raised in Edmonton, Alberta and began singing with the Edmonton Musical Theatre Group as a teenager. Following her muse, Chubai then started singing jazz, inspired by classic vocalists such as Ella Fitzgerald and Billie Holiday as well as more modern singers like Cassandra Wilson. Although clearly meant for the stage, Chubai worked a variety of day jobs while polishing her talent. After working in public relations for years and moonlighting as a jazz singer, Chubai then fell into a very different career.
Chubai's singing jump-started her work in television. With a high profile as one of Edmonton's top jazz singers and numerous televised performances, it was only a matter of time before Chubai was catapulted into the world of television. In 1999, Chubai was approached to audition for a job on the Big Breakfast. She spent five years as a weather broadcaster and then relocated to Vancouver in 2004. Chubai is currently employed by City TV Vancouver as a TV Host for Breakfast Television (Channel 13, Shaw HD 214) and as the Westcoast correspondent for CityLine, City TV's National lifestyle show (check local listings).
A natural performer, it wasn't long before Chubai hit the big screen with principal roles in movies and television. Her credits include movies such as Eclipse, Mission Impossible 4, Fantastic Four 2, Sandlot 3, made for TV movies including Witness: The Amber Frey Story, as well as the popular TV series Stargate SG-1 and The Dead Zone. Chubai has also appeared in a number of national commercial spots for BMW, Suave Shampoo, Bud Light, Microsoft and West Jet to name a few.
Chubai also uses her celebrity status to help local charities in Vancouver. In cooperation with City TV, Chubai emcees many events throughout the year, helping to raise money for many worthwhile causes such as the Richmond Hospital Foundation, Burnaby's Empty Bowls, Big Sisters of the Lower Mainland, the Children's Wish Foundation and SOS Childrens Charities. As a member of the organizing committee for the 2005 Women's Media Golf Classic, Chubai helped raise money for Variety, the Children's Charity. Besides her emcee duties, Chubai can also be seen and heard performing jazz at such events as "A Night of New Beginnings - for Covenant House".
External links