Angela Weber and Eric Yorkie are one of the secondary couples in the Twilight series. Their relationship is only featured in the films, as Eric is in a relationship with Katie Marshall and Angela with Ben Cheney in the books.
In the films, Angela is portrayed by Christian Serratos and Eric is portrayed by Justin Chon.
Prehistory
Angela Weber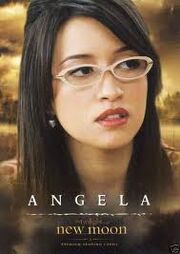 Angela Weber is the daughter of a Lutheran minister and his wife. She is also the Forks school paper photographer.
She grew up in Forks, and grew into a shy but kind-hearted person. She is well liked by her peers at school.
Eric Yorkie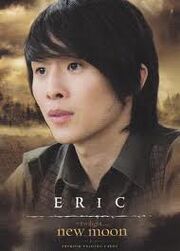 Eric Yorkie is the yearbook editor of Forks High School, who developed a short crush for Bella Swan before Angela won his affection by asking him to prom.
History
Twilight
In Twilight, Eric and Angela are both photographer and yearbook editor for the Forks High School newspaper, respectively. After some encouragement from Bella, Angela takes the courage to ask Eric to prom, and he accepts. They are last seen together at the dance, where Eric is the DJ.
New Moon
Eric and Angela's relationship continues in New Moon, though Eric seemingly still has certain infatuation with Bella, like Mike. They are both stunned when Bella talks to them again months after her depression by Edward's departure. When Bella and Mike invite them to watch a movie with them, Angela gets the stomach flu and Eric decides to take care of her.
Eclipse
In Eclipse, they are only seen together in one scene where they discuss the perfect speech for Jessica, who is the valedictorian for their graduating class.
Breaking Dawn - Part 1
Eric and Angela attend Bella and Edward's wedding in the first half of Breaking Dawn. When Jessica asks if Bella will be showing, Angela remarks that she is not pregnant. They are later seen commenting Alice's arrangement and the size of the cake, which they found a little too small for a big wedding.
See also