Angela Weber and Ben Cheney are one of the minor couples in the Twilight book series. They become a couple near the end of Twilight and remain together throughout the rest of the series.
In the films, Ben's character is combined with Eric Yorkie's and Angela dates Eric instead. Also, Angela's character is combined with Katie Marshall's, Eric's girlfriend in the novels. Their Life and Death counterparts are Allen Weber and Becca Cheney.
In the movies, Angela is portrayed by Christian Serratos.
Prehistory
Edit
Angela Weber
Edit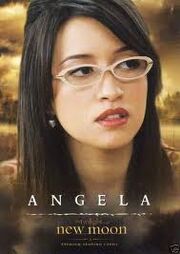 Angela Weber is the daughter of a Lutheran minister and his wife. Her younger twin brothers, Joshua and Isaac, are known to be very loud and demanding of attention, but she adores them unconditionally.
She grew up in Forks, and grew into a shy person due to her unusual height for girls. As a kind-hearted person, she is well liked by her peers at school.
Ben Cheney
Edit
Ben Cheney is a young boy of Asian descent. He has a best friend named Austin Marks who shares his interest in comic books, action movies, and indie rock music. Sometime after he enrolled Forks High School, he developed a mutual crush on Angela.
In Twilight, Angela and Ben have developed a crush on each other at this time. Near the end of the story, he finds the courage to ask her to prom.
Midnight SunEdit
In Midnight Sun, Edward, feeling grateful to Angela's gentle attitude toward Bella, encourages Ben to ask her to prom as a subtle gift of gratitude - by pretending to be interested in her in front of him.
In New Moon, Mike and Bella invite a few people to watch a movie with them. But then, Angela has the stomach flu and Ben decides to take care of her.
In Eclipse, Angela and Ben have both been accepted into University of Washington in Seattle. They both attend their own graduation and then the Cullens' graduation party. While hanging out with Bella, Angela tells her that she is glad that Ben has Austin to share his interest.
Breaking DawnEdit
In Breaking Dawn, Ben and Angela are seen attending Bella and Edward's wedding as their guests. Bella intentionally tosses the bouquet to Angela.
Ad blocker interference detected!
Wikia is a free-to-use site that makes money from advertising. We have a modified experience for viewers using ad blockers

Wikia is not accessible if you've made further modifications. Remove the custom ad blocker rule(s) and the page will load as expected.